Whether your home is Colonial revival, farmhouse, or Craftsman, the right fireplace design allows you to express your personal style turning a room into a conversation. Fireplaces have helped create inviting gathering spaces through the ages—a tradition that lives on today. Here are five design ideas for modern vs. contemporary interior design fireplace solutions.
Mahogany Wood
Ideal for Georgian and Southern-style homes, the richness of mahogany creates a distinctly masculine look. Mahogany is indigenous to the Americas, making it an appropriate wood choice for traditional American homes.
Quarter-Sawn Oak Mantels
The granddaddy of all mantels, quarter-sawn oak fireplaces hail from the Victorian era and typically feature carvings ranging from relatively minor embellishments to strikingly ornate designs. A quarter-sawn oak mantle creates a quintessentially traditional look.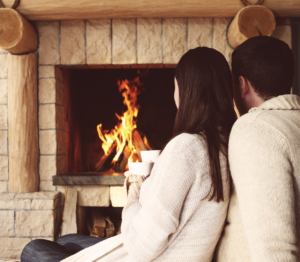 Masonry Fireplaces
Contemporary masonry fireplaces create an earthy feel that can work beautifully in traditional homes—especially farmhouse-style homes, cottages, and bungalows. No longer limited to bland red brick and mortar, masonry fireplaces are constructed with a wide range of materials today, from slate to river rock to various kinds of brick.
Burnished Wood
Burnishing wood involves blending wood fibers together with lacquer to create a high-gloss finish—the result is wood with a beautiful sheen. Like so many crafts, burnished wood mantles are not as common today, since the process can be time-consuming and laborious. The investment is worthwhile, though, as burnished wood finishes are refined, imparting a moody, antique look.
Appliques and Hand Painting
Carved wooden appliques placed below the top of the mantel can add a traditional appeal to an otherwise flat, angular fireplace. Another option to create visual interest: hand-painted tile in a Victorian floral pattern. The options are endless, especially with Ortal's cool wall technology and heat barrier solutions—more on that below.
Traditional Design Meets Modern Technology
Because of the excessive heat they generate, wood-burning fireplaces limit your options for which materials can be used around the face of the hearth. Ortal fireplaces are uniquely different. Our direct-vent systems disperse heat through the face of the firebox as well as the chaise. This makes it possible to place flat screen TVs and other decorative items above and around the fireplace opening and greatly expanding which wall materials can be used around the hearth.
Ortal technologies ensure superior safety, comfort and design flexibility
Ortal: A contemporary fireplace that brings life into a room
Unlike wood-burning fireplaces, which lose an astonishing 80% of the heat they produce through the chimney, Ortal's direct-vent hearths retain the majority of the heat they generate, and they heat spaces evenly, eliminating drafts and cold spots.
Since the combustion gases from Ortal's direct-vent fireplaces are expelled outside the building, they do not create the air-quality issues and carbon monoxide dangers of ventless systems. Ortal's direct-vent units use non-combustible, decorative interior media such as logs, glass, and stones, eliminating the air quality problems associated with burning wood.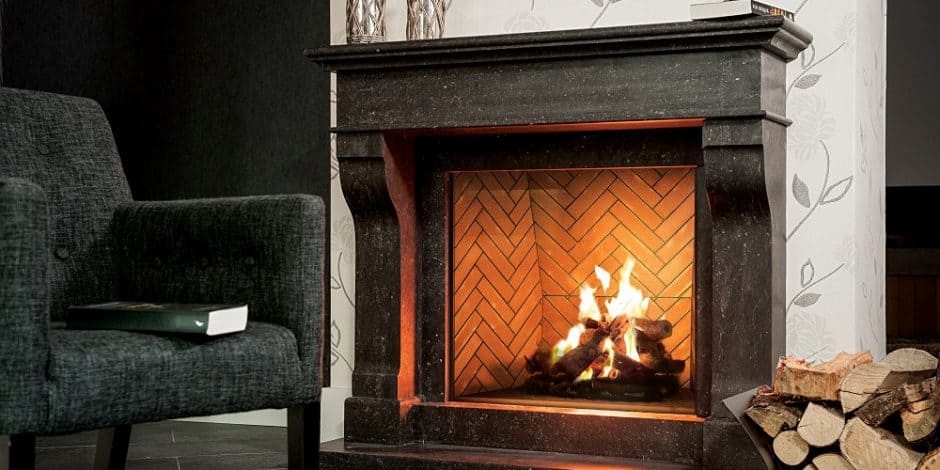 Glass-to-Hearth Framing Provides Uninterrupted View of Fire
What truly sets Ortal's line of traditional fireplaces apart is the clean, glass-to-hearth frame. Wood-burning fireplaces require a view-obscuring metal screen to prevent potentially dangerous embers from escaping the hearth as well as preventing exposure to the flame.
Ortal's traditional fireplaces utilize a single glass pane reinforced with a nearly-transparent mesh screen. The pane extends beyond the inside edges of the fireplace opening, providing an uninterrupted view into the fireplace and creating the look of a big open flame. The single-pane system also allows more heat from the fireplace to warm the space.
Whatever façade you and your designer choose, Ortal's traditional fireplaces seamlessly merge classical design with innovative technology for a beautiful, transitional look.