Atmosphere is a critical component of the restaurant dining experience—in fact, some studies have found it's just as important as an establishment's menu.1 Lighting, artwork, spacing, music, and furnishings commingle to create the character of a space.
The atmosphere of your restaurant affects how much time guests spend at your establishment, their spending behavior while they dine with you, and their inclination to return. And if you're an architect or interior designer working with commercial clients, adding these special design details is critical.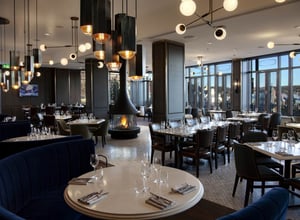 Your task is to ensure your eatery—whether it's a bar and grill, lounge, café, or expansive multi-room restaurant—has an enticing atmosphere that draws in patrons. Then you can wow them with impeccable service and a tempting menu that will bring them back again and again.
Dazzle Diners with a Mesmerizing Fireplace
Some of the finest restaurants in the country feature fireplaces—Spago in Beverly Hills and New York City's Beatrice Inn are two examples. These establishments know how important ambience is to their success.
Install an eye-catching modern gas fireplace and watch diners flock to your restaurant.
Ortal Gas Fireplaces Feature Advanced Technology
Ortal gas fireplaces are ideal for restaurant environments. These modern units are completely sealed for safety, without obscuring the flame. They feature direct-vent technology, which uses an innovative co-axial flue system that takes in and warms air from the exterior of the building and expels the exhaust outside.
When professionally installed, these fireplaces create no indoor air quality issues and significantly reduce burn hazards (compared to wood-burning hearths). And, direct-vent gas fireplaces can be installed in places masonry hearths can't—like corners, upstairs rooms and odd-shaped spaces.
Style and Design: The Sky Is the Limit
Ortal modern gas fireplaces are available in every conceivable shape and size, from tunnel-style units to indoor-outdoor models to traditional front-facing fireplaces. And, they can be used with any décor, from traditional to industrial to French country.
Our standalone models are ideal for restaurants with an open floor plan. When placed in the center of a room or outdoor space, our standalone curve fireplaces have an even broader reach and greater visibility.
Ortal linear fireplaces are also a designer's dream. Why? Ortal's innovative cool-wall technology keeps the wall above the fireplace much cooler than fireplaces without this technology (80 degrees Fahrenheit or less when 12 inches above the firebox with Ortal, compared to 180-300 degrees with competitor models). This opens up a world of design possibilities. Designers can mount artwork, special finishes, and even TVs or other electronic equipment above an Ortal fireplace without risking damage to these items.
Reignite Profitability
Whatever your vision—a dramatic front-facing fireplace that takes center stage, or a small, unimposing fire for a corner space—Ortal can help make it happen. Our extensive catalog includes more than 80 standard fireplace models to suit virtually any space. And, we provide start-to-finish project support.
Ready to learn more about how Ortal fireplaces can elevate your restaurant's interior and exterior spaces? Read about Ortal's advantages, browse our gallery for design inspiration, and call us at 1-844-ORTAL-FIRE for a consultation.