How you arrange your furniture around an existing fireplace or design a room with a fireplace from the ground up depends largely on how you want to use the space. Below we present five ideas for creating an inviting seating arrangement around a fireplace.
The Family Room
Creating a warm gathering space for the family is easy with a front-facing fireplace. If you're designing a room from scratch, consider adding a few wall niches in the family room to keep books, games, and toys tidy. An oversized area rug with a pair of stylish floor poufs gives the kids ample space to romp, play, and lounge in front of the fire. Who's for a game of Twister?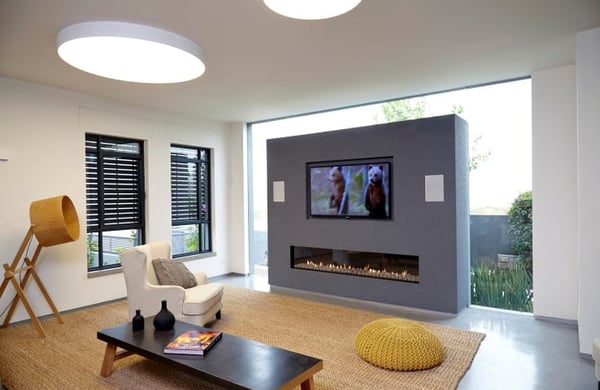 The Social Parlor
Create a show-stopping space for entertaining with a space creator style gas fireplace in a big, open room. The warmth and beauty of the fireplace will naturally draw people in to mingle and meet new friends. Create a variety of seating choices on either side of the fireplace including chairs, ottomans, loveseats, and sectionals. To make the space really playful and unique consider adding a hammock or swinging chair/bench.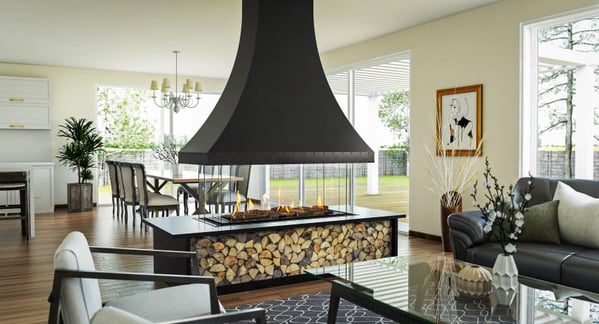 The Reading Retreat
Everyone needs respite from the chaos of the day-to-day. An island fireplace works beautifully to create the perfect retreat, allowing you to place your favorite chairs for lounging on either side of the hearth. Tuck into your favorite book with a cup of joe or work comfortably on your laptop near the warmth of the fire.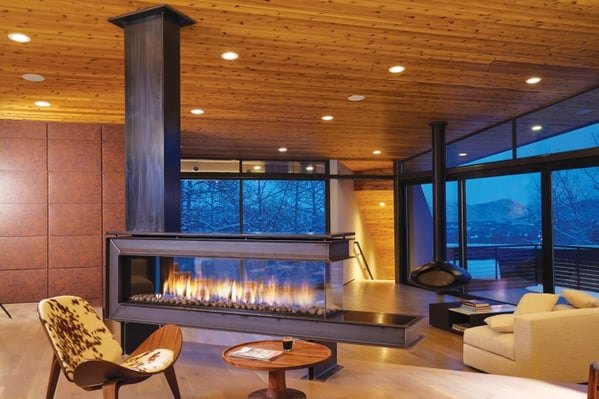 The Home Theater
A cushy sectional strategically placed in front of a space creator fireplace and big screen TV just begs for movie nights. Host film screening fundraisers, movie nights with friends, or binge-watch your favorite TV shows in your very own mini-home theater.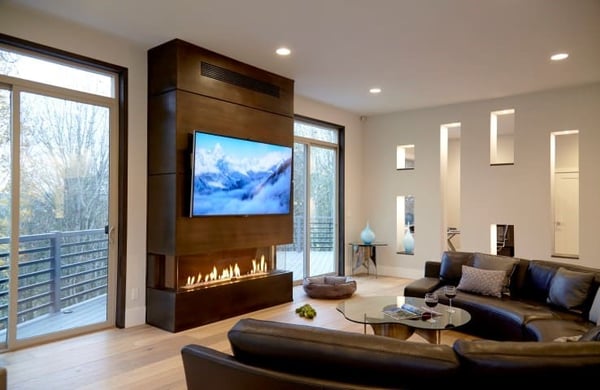 The Man (or Lady) Cave
Have the guys over for poker or a big game with no worries about being too messy or rowdy. Well-placed, simply-stated furnishings will do in the space. Create two distinct zones: a traditional seating area with sofa, chairs and coffee table, and a bar area with plenty of stools/tall chairs and lots of standing room. A Three side (or TS) gas fireplace works well in split spaces, giving you a view of the fire wherever you are.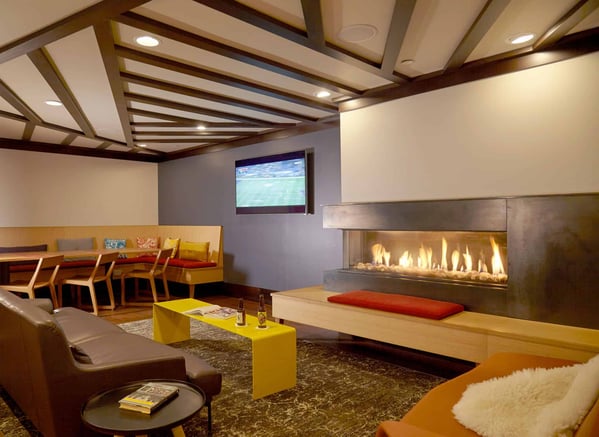 Ortal Fireplaces Transform Residential and Commercial

Spaces
We hope you've found these ideas inspiring, whether you're looking for simple tips to improve an existing space or embarking on a major remodeling project.
Ortal offers an extensive collection of direct-vent gas fireplace models to suit virtually any space. Our fireplace units range in size from 16-80" and can be incorporated into existing wood-burning fireplaces, mounted to the wall with virtually no renovations required, or designed from the ground up. All of the images in this post showcase the diverse fireplace designs in Ortal's collection. Learn more about our technology and view our gallery for design ideas.