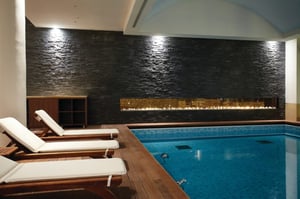 Why should beauty and comfort stay indoors? Indoor/outdoor fireplaces, one of the latest trends in luxury living and entertaining, bridge the divide between architectural planning and interior design, between indoor coziness and outdoor luxury. They may be more expensive to buy and more complex to install, but those who want the ultimate fireplace experience will find that they're well worth the effort and expense.
They Bring Comfort Outdoors
The standards for outdoor living spaces continue to rise, and designers have been rushing to keep pace with the changes. Once upon a time, a few shrubs and a fire pit might have cut it. Nowadays, people expect more. Homeowners have tired of makeshift backyards and ad hoc patios—a few lawn chairs here and a propane grill there. Meanwhile, business owners must up their game in order to attract and retain customers.
More than ever, people want luxurious, eye-catching spaces in which they can relax with friends and family or entertain guests and neighbors. They want to bring the comfort and style of the interior outside into the fresh air, and they're doing so by laying down exquisite flooring, buying high-end furniture, adding waterfalls, and installing modern outdoor fireplaces.
The most ambitious homeowners and business establishments are taking it a step further, connecting the interior and the exterior with a single fireplace that offers warmth and visual splendor on both sides of the structural divide.
They Unify Space
Back when outdoor patios were an afterthought, it didn't much matter whether they had any link to the inside world. Now, both private and public property owners want to create a seamless transition between indoor gathering spaces and outdoor gathering spaces. They want to bridge the divide without losing the benefits of discreteness.
When you consider that an increasing number of designers prefer flowing, integrated layouts to isolated and disconnected spaces, you have a solid argument for indoor/outdoor fireplaces that create harmony without sacrificing discreteness.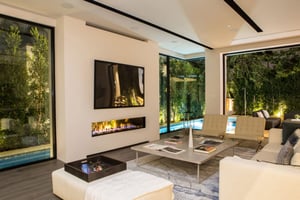 They're Beautiful on the Inside and the Out
The most obvious benefit of an indoor/outdoor fireplace is the aesthetic appeal, and, with Ortal, you get something even better—limitless design possibilities that leave plenty of room for personalization.
Gather inspiration from either indoor or outdoor fireplace designs, and then mix and match as you wish. Select the size, the media, the lighting, and the surrounding materials that match your vision. If you want a consistent look, use the same materials outside as you do inside. Prefer a little contrast? Use stronger, more durable elements (concrete, stone, brick, stucco) outdoors and more exquisite materials (marble, metallic porcelain, terracotta) on the inside.
They Drive Away the Chill
Ortal's back-to-back indoor/outdoor fireplaces are not only stunning; they're also fully functional. A good fire can extend the life of a patio well past the summer months. For homeowners, that may be a matter of comfort. For restaurant, bar, and coffee shop owners, it can be a matter of life or death. After all, it's costly to leave such valuable real estate idle during the colder months when you can easily drive away the chill with an outdoor fireplace.
Reimagine Interiors and Exteriors
Learn more about Ortal's double-sided fireplaces for outdoor and indoor spaces, and then call us at 1-844-ORTAL-FIRE to schedule a face-to-face meeting.