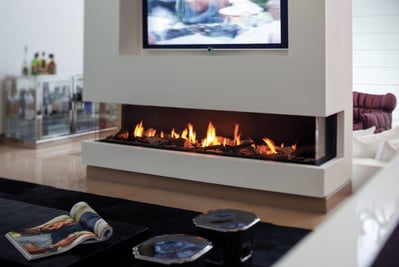 In a previous post, we talked about how to upgrade your mantel so that it belongs in the 21st Century. Now it's time to modernize the rest of your fireplace with the latest designs and the most up-to-date technology. Whether you have a Traditional Fireplace complete with a mantel and hearth, or a contemporary Tunnel Fireplace with a see-through design, the following features and add-ons can give you more beauty, safety, and comfort.
Cool Wall Technology
Old fireplaces hogged space. Between the firebox, the flue, the chimney, the mantel, and the hearth, they took up an entire wall and even some of the floor. Modern fireplaces give you more room with which to play.
With Ortal's Cool Wall Technology, you get even more space to play. By keeping the surrounding wall down to a safe temperature, Cool Wall Technology gives you the power to place artwork, décor, and even televisions above and around the fireplace, where they might otherwise have suffered heat damage.
Glass Media
One of the easiest ways to upgrade your fireplace is to replace the internal media. If you currently "burn" faux logs, why not switch to colored glass to add a more contemporary touch to the fireplace? With Ortal, you have plenty of options. Choose between ancient amber, royal cobalt, polished obsidian, and brilliant ice to get the exact look you want.
Power Vent
If you've ever wanted to install a fireplace in an odd location—say, in the middle of the room or in the upstairs bedroom—the power vent is your best friend. While standard venting systems can only draw in and exhaust air for a distance of about 40 feet, a power vent creates a forced air stream that's effective for up to 90 feet.
Double Glass Heat Barrier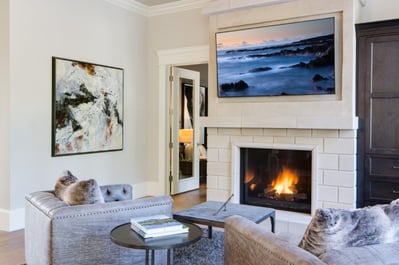 Building and manufacturing codes demand that each modern fireplace comes equipped with some sort of heat safety barrier. That's why safety screens come standard on every Ortal fireplace. Made out of fine mesh, they're as unobtrusive as possible, but, nonetheless, visible.
A double glass heat barrier, on the other hand, gives you the same level of safety without the hindrance of a screen. The barrier consists of two panes of glass separated by a thin ventilation layer that uses a fan to circulate hot air so that it passes into the room, instead of heating up the glass. You get more ambient heat and fewer safety risks.
Interior Lighting
A flame possesses a singular kind of beauty, emitting a warm, dancing light. With older fireplace models, the flicker of the flame was the only light you got. Now you can enhance the natural beauty of the flame with internal, electric lighting. By illuminating the interior materials, built-in recessed lighting adds not only luminescence but depth and texture as well.
Reinventing Modernity
At Ortal, we pride ourselves on pushing the envelope. Combining innovative design with state-of-the-art technology, we've reinvented the traditional fireplace to make it worthy of the 21st century. Learn more about the advantages you get with an Ortal direct vent fireplace.