Many homeowners desire a space with a luxury fireplace as the focal point, especially when designing a new home. However, the limitations of conventional fireplaces can impact your ability to bring the design vision to life. Factors such as clearances and heat barriers can alter the intended design or prevent clients from using the space in the way they envision. For example, with a conventional fireplace, they might not be able to safely hang artwork or a television above it.
Cool Wall Technology opens up new possibilities, allowing you to design with more freedom. It also provides several long-term benefits to clients that go beyond the look and feel of luxury.
What Is Cool Wall Technology?
As the name suggests, Cool Wall Technology enables the walls surrounding the fireplace, including the one above it, to stay cool when the fireplace is in use. This is achieved by reducing the heat buildup from the firebox by allowing heat to vent out in a safe way. Many systems use fans to draw away all of the heat, which keeps walls cool but also doesn't allow any heat into the room. These systems also tend to be noisy, which can impact the ambiance of the room.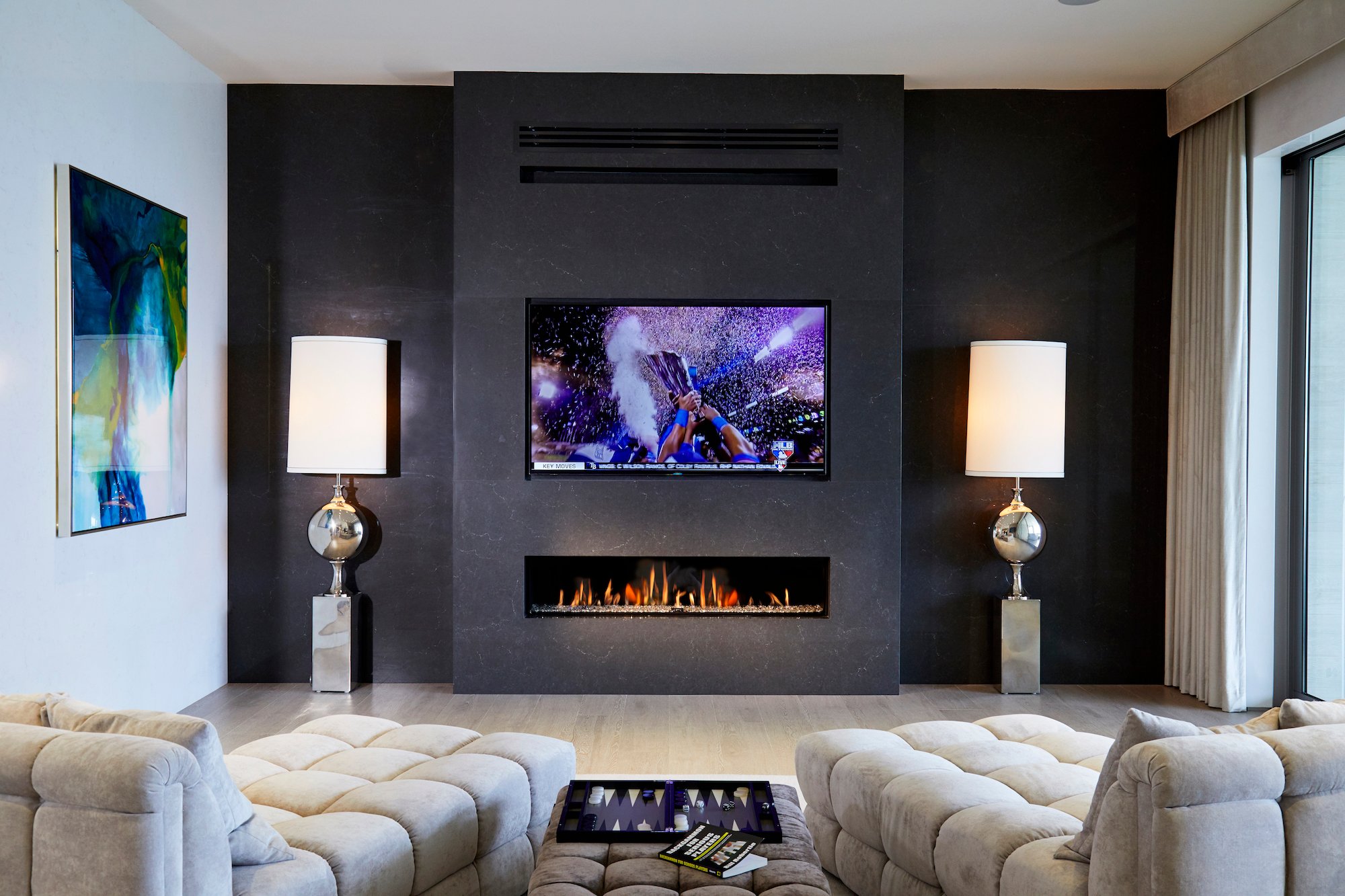 Unlike systems that enable cool walls but then render the fireplace purely ornamental, Ortal's patented system maintains a functional fireplace that produces heat and operates noiselessly. Cool Wall Technology also maintains a significantly lower wall temperature than other fireplaces:
0-6" above the firebox: less than 120ºF
6-12" above the firebox: less than 100ºF
12" above the firebox: 80ºF
Without Cool Wall Technology, temperatures can range from 180-380ºF, which can affect paint, finishes, tile, wood paneling, and other materials. High heat also prevents the use of electrical components within a certain distance from the fireplace.
5 Benefits of Cool Wall Technology
When specifying fireplaces for luxury clients, consider these five benefits of choosing Cool Wall Technology.
1. Functionality
With Cool Wall Technology, you don't have to forgo function for form. Clients enjoy the warmth of a fireplace both visually and literally and get the best of both worlds: a stunning fireplace that also provides heat.
2. Flexibility with finishes
Unlike other fireplaces that require masonry, stone, or metal to withstand the heat, Cool Wall Technology allows you to specify a broad range of finishes. Use tile, marble, fabric, or other materials that complement your design.
3. Unlimited design potential
Without the limits that conventional fireplaces present, you are free to be truly creative. In addition to being able to use a broad range of materials, you also have the flexibility to put other features closer to the hearth. For example, built-in shelves or furniture can be adjacent to the fireplace without risk of damage.
4. Luxury without limits
No luxury client wants to be told they can't decorate a room in the way envision because of a design feature. Cool Wall Technology allows clients to use their spaces worry-free. They can hang precious artwork on the wall, install speakers, or even recess a television just inches above the fireplace.
5. Freedom in the future
Even if a client doesn't currently envision hanging something above the fireplace, they or future owners might eventually want this option. Cool Wall Technology opens up possibilities that haven't even been considered yet, giving clients total freedom both now and in the future.
Specify Ortal for Cool Walls
Not all cool wall systems are the same. Only Ortal's patented system keeps walls at a cool, safe temperature while also operating noise-free and allowing heat to enter the space. Cool Wall Technology eliminates the need for fans to keep the walls cool. A fan requires more power, an additional outlet near the fireplace, and can create a dull noise in the background whenever it is operating. This means that designers and their clients no longer have to sacrifice function for form. When designing a luxury fireplace, break free from the limits of conventional systems, consider how much flexibility Cool Wall Technology provides, and let your creativity flow.
To learn more about how Cool Wall Technology can help with your next project, speak with a fireplace expert today. Experience the freedom of design, feel the comforting heat and cool walls, without the noisy distractions.
.