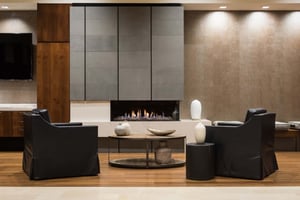 Why own a gas fireplace? You've heard all the usual reasons—they're cozy; they're beautiful; they're efficient—but there's more to the modern fireplace than warmth and charm. Today, you can install a fireplace that's smart, efficient, stylish, and fully customizable. Here are five surprising benefits of having a fireplace made by Ortal.
You Get a Piece of Art with That Flame
If you're bored with the age-old fireplace design, you're not alone. Plenty of people have considered ditching their fireplace and replacing it with edgier artwork and contemporary décor. But what if the fireplace itself were a piece of art? What if you could custom-build a model that matches your design aesthetic, rather than purchasing a cookie-cutter, mantle-and-hearth arrangement?
With Ortal, you get so much more than a conventional fireplace. You get models that push the limits of design, from the modern sleekness and dimensionality of a three-sided fireplace to the old-fashioned charm of a stand-alone fireplace. With nearly unlimited customization options, you can put your own personal stamp and style on this all-important architectural fixture.
You Don't Have to Lift a Finger
All you need to do is push or swipe. That's because many newer models offer remote control capabilities. With Ortal's smart fireplace app, you can adjust the flame and the lights straight from your mobile device. Whether you use a smartphone, a tablet, or a laptop, our handy app gives you full control. In other words, this is not your grandmother's fireplace.
You Can Express Your Creativity
In years past, fireplace manufacturers gave you limited choices. You could fill the firebox with wood or faux wood. Now, Ortal lets you choose between ceramic fiber stones, ceramic fiber pebbles, ceramic fiber logs, colored glass, or clear glass. You can also throw in reflecting mirrors and recessed lighting to create an even more stunning picture. In other words, you can build your own fireplace to match your vision.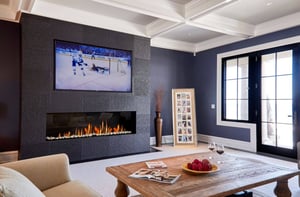 You Can Save Time, Money, and the Environment
Fireplaces got a bad reputation when your only option was a soot-filled, ash-spewing, wood-burning unit. These days, there are better alternatives—fireplaces that burn cleanly and efficiently. They lose less heat, release fewer toxins, create no mess, and emit no smoke. That's less time you have to devote to cleaning, less money you have to spend on energy, and less guilt you have to feel about the environmental impact.
You Can Increase the Value of Your Home
Fireplaces are the ultimate comfort amenities, but what happens when you leave? The good news is that a fireplace can boost the value of your home. According to some estimates, adding a fireplace can increase the final selling price by up to $1,500—and, no doubt, the better the fireplace, the more potential homebuyers would be willing shell out for the home. In other words, fireplaces don't just improve the quality of your life; they also pad your wallet.
Reinventing the Fireplace for a New Age
Want to know where you can find the type of fireplace that makes your life better rather than messier? Take a look at Ortal's state-of-the-art frameless gas fireplaces.