For years, Ortal has led the way in modern gas fireplace design and technology. Now, we're reinventing hearth and home once again with our Lyric indoor fireplaces, our newest line of direct-vent gas fireplaces. When we established Lyric, we reinvented our fireplaces with a different kind of space and buyer in mind. The goal was simple: to bring the luxury of a modern, frameless fireplace within reach of more buyers. How did we do it? What sets Lyric apart?
Greater Value
For one, we're guided by the belief that great design shouldn't be the privilege of the few. Instead, it should inspire every facet of interior design, from major architectural elements to the smallest décor accents. Because of our value-engineered production process, we're able to make our fireplaces available to more homeowners and businesses around the world. Meanwhile, by staying true to our commitment to quality, we've managed to maintain the same impeccable fireplace design standards, characterized by timeless craftsmanship and modern efficiency.
Slimmer, Shallower Designs
With Lyric, you still get the same great design, marked by clean lines, elegant finishes, and stunning proportions. Yet Lyric fireplaces come with a twist—they're slimmer and shallower than ever. That gives them extra flexibility. A Lyric fireplace can fit snugly into almost any nook or cranny—spaces that were previously off-limits when it came to fireplace installation. Throw in our state-of-the-art power vent system, which increases the exhaust range, and Lyric lets you conquer nearly any design obstacle.
Easier Installation
Customizing a fireplace is the easy part. Installing it can be a little trickier. From the firebox to the vents, each piece requires careful consideration. There are local building codes to consider, as well as the manufacturer's instructions. However, Lyric makes installation easy with start to finish project support. When we conceived of Lyric, we wanted to ease the burden on customers by giving builders and contractors a helping hand. We've done so by manufacturing fireplaces that are easier than ever to install. In other words, we've come up with one more way to make our fireplaces accessible to more people.
Our Most Convenient Fireplaces Yet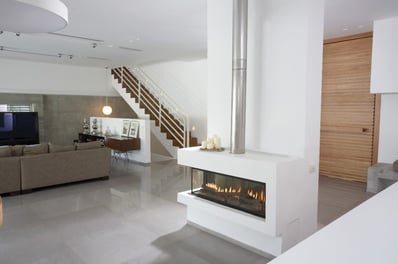 What do you get when you combine easier installation, more versatile designs, and value-engineered manufacturing? You get our most convenient fireplaces yet. Incorporate Lyric's unique qualities with the cutting-edge features you've come to expect from Ortal (think Cool Wall Technology, efficient direct-vent technology, and our unique Power Vent System), and you can see why we're so excited to announce our newest line of modern gas fireplaces.
With Lyric, you get the same elegance, revolutionary performance, and quality that defines every Ortal fireplace, but in a slimmer, more convenient, more value-engineered package. The result is a fireplace that exceeds everyone's expectations.
Flip through the Lyric catalog to see first-hand how our newest modern fireplaces can fire up your life.
To stay connected with all things Lyric, sign up for our newsletter or find a local dealer.