"Ooh, look—the room has a fireplace, too."
These words are music to a hotelier's ears. A breathtaking view, a glimmering fireplace, an in-suite jacuzzi bath—it's details like these that inspire people to click "book now."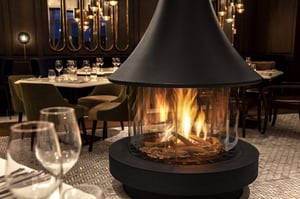 Savvy hotel owners know that complementary Wi-Fi, parking, continental breakfast and a fully-stocked minibar are just not enough to cut it in today's digital age, where hotel seekers are practically overwhelmed by choice and booking is as easy as clicking a button.
It goes without saying that you shouldn't skimp on the amenities hotel guests really value—impeccable service and housekeeping, gourmet coffee and tea, comfortable bedding, oversized bath towels, and plenty of accessible electrical outlets for device charging.
To seal the deal, though, you've also got to provide the wow factor. Upscale clients are looking for a hotel with a fireplace and in-room jacuzzi, among other luxury features.
Elevate Hotel Rooms/Suites and Common Areas with Modern Gas Fireplaces
Even luxury hotel rooms and suites falter if they lack character and charm. Investing in contemporary direct-vent gas fireplace units for individual rooms or common areas can help set your establishment apart.
A grand fireplace in your bar or restaurant might be just the lure you need to entice guests to dine in at your establishment rather than going out.
In-room fireplaces add ambience and create a cozy gathering space around which guests can relax and enjoy an in-room meal and entertainment.
Ortal Fireplaces: Where Luxury Meets Versatility
Ortal offers more than 80 standard models in a variety of sizes to suit virtually any space. Our direct-vent technology makes it possible to install fireplaces in spaces that were once off limits—like corners and tight spaces in multi-story buildings.
Our selection of fireplace styles is a designer's dream. Choose from front-facing, three-sided, tunnel-style, standalone, corner, space creator, and indoor-outdoor fireplaces, for virtually unlimited options.
Here are just a few examples of how our fireplaces can be used in common areas of your hotel: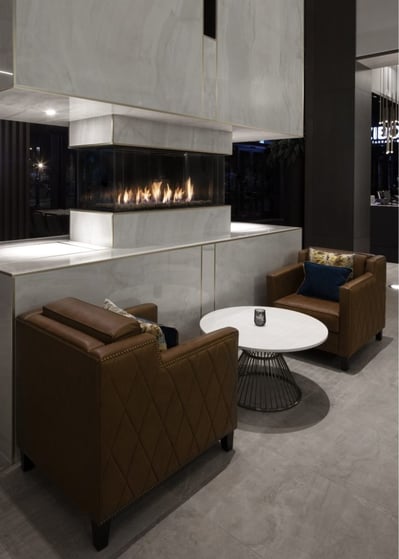 Ortal's Innovative Fireplace Technology
Ortal knows that safety and comfort are your priorities, and our products deliver. Wood-burning fireplaces are limited in terms of where they can be placed, they're messy and challenging to maintain, and they create potential hazards for guests, like air quality issues, burn risk, and fire danger.
Ortal fireplaces eliminate or greatly reduce these issues (as long as our fireplaces are properly installed and maintained) with the latest technology, including:
Heat barrier solutions: Ortal's screen and double glass heat barrier solutions preserve the glass enclosure at a comfortable temperature, ensuring that the fireplace is completely safe without compromising aesthetics.
Direct-vent fireplace technology: All Ortal fireplaces use direct-vent technology, which uses a co-axial combustion system; air is drawn in from the outside, and exhaust is expelled outside; this helps prevent indoor air pollution.
Power vent system: Ortal's power vent system can circulate air up to 90 feet away from the fireplace, increasing venting range by 50 feet; the system allows for both horizontal and vertical termination, and the forced air stream has enough power to allow for three times the number of bends in the venting run, increasing flexibility of pipe placement.
Ease of operation is also essential, especially for in-suite units. Ortal's modern fireplaces ignite with the flip of a switch, creating a mesmerizing glow on command and providing warmth in minutes. No muss, no fuss.
Ready to learn more about how Ortal fireplaces can elevate your hotel's interior spaces? Read about Ortal's advantages, browse our gallery for design inspiration, and call us at 1-844-ORTAL-FIRE for a consultation.