Although it's not common knowledge to the average consumer, designers know that the words "modern" and "contemporary" can be used interchangeably in some contexts, but when it comes to design, there are important distinctions. The difference between modern versus contemporary interior design is all about time. Modern design refers to a specific era in the past, and contemporary design pertains to an aesthetic that is popular in the moment. When it comes to including a fireplace in a space with a modern or contemporary design aesthetic, Ortal offers solutions that will fit any era.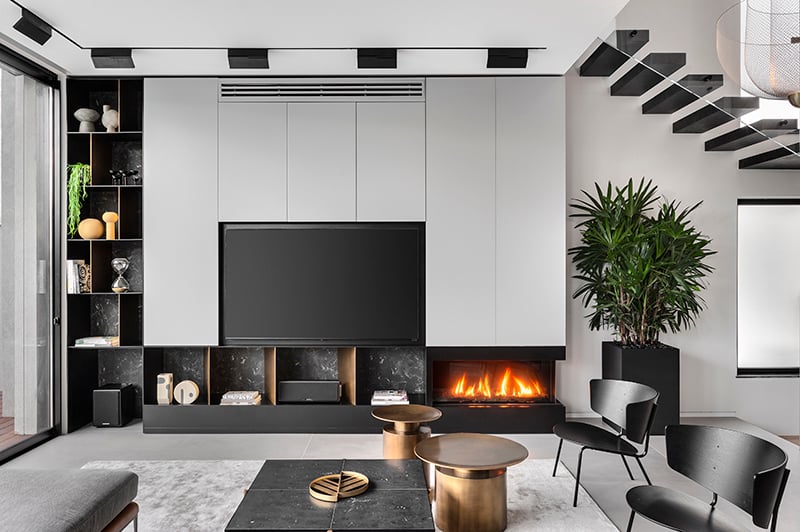 Photo credit: Design by Orly Deckter, Photo by Oded Smadar
Key Features of Modern Design
The modern era of design encompasses the early to mid-twentieth century and includes such distinctive phases as Art Deco, minimalist design, and mid-century modern. With heavy influences from Germany and Scandinavia, modern design is characterized by natural materials, sleek lines, and a distinct lack of clutter. For interior design, this typically means color palettes with neutral, earthy tones and an emphasis on simplicity.
While modern design can encompass a lot of unique styles and looks, there are some common characteristics to look for, including:
Simplicity with few embellishments
Natural materials
Earthy tones
Clean lines
No clutter
Natural light
Minimal window coverings
Functional furnishings
Monochromatic color palettes
With the exception of the Traditional line, all of Ortal's fireplaces can be seamlessly integrated into modern interior design. With no need for mantels and the ability to use a range of surround materials, they help you achieve a sleek, modern look with crisp lines and simple, natural materials.
Contemporary Interior Design Aesthetics
Because contemporary interior design is of the moment, it's not always easy to capture in a neat nutshell without the benefit of hindsight. However, by looking at some of the most popular current design trends, it's possible to define it to a certain extent. Basically, if it's trending now, it can be considered contemporary.
Unique materials that are highly crafted
Timeless looks with high-quality furnishings
Sustainable materials
Portable statement lighting
Sophisticated farmhouse aesthetics
Warm, saturated colors
Layered patterns
Bold trim and statement ceilings
Luxury with natural materials
Handmade items
Two-tone kitchens
Unique rugs
While some of these trends are decidedly modern, like sustainable natural luxury materials and statement lighting, many of them are, well, contemporary. Because Ortal's fireplaces are so adaptable—you choose the shape, size, surround materials, and interior media—matching a contemporary aesthetic is always possible, no matter how styles evolve. Also, because the sky's the limit when it comes to surround materials, you are free to implement all of your contemporary mantel design ideas.
Fireplaces in Modern and Contemporary Design
Comparing modern versus contemporary interior design reveals these distinct differences, but there are also some similarities, namely simplicity, clean lines, and natural materials. Because of this, many of the same design elements can be used in a modern or contemporary interior design. For example, an iconic Eames chair can fit into both styles, allowing the other surrounding elements to define the overall aesthetic.
When it comes to fireplaces, the same is true. A luxury gas fireplace works with any type of decor because there are so many design possibilities. Without the need for masonry, luxury gas fireplaces can have the clean, simple lines that define modern and contemporary aesthetics. Cool Wall Technology allows interior designers to specify a range of materials for the surround, including wood, stone, and tile. Because no firewood is required, the flames can emerge from smooth stones, translucent glass, natural-looking clay driftwood, and many other types of materials that can be chosen to match the interior design of the space. With smaller clearance areas compared to traditional wood-burning fireplaces, homeowners have more freedom to place that unique rug or handmade sculpture where they want to.
If you'd like to learn more about how to select the best fireplace for your next interior design project, download our free Buyer's Guide today.