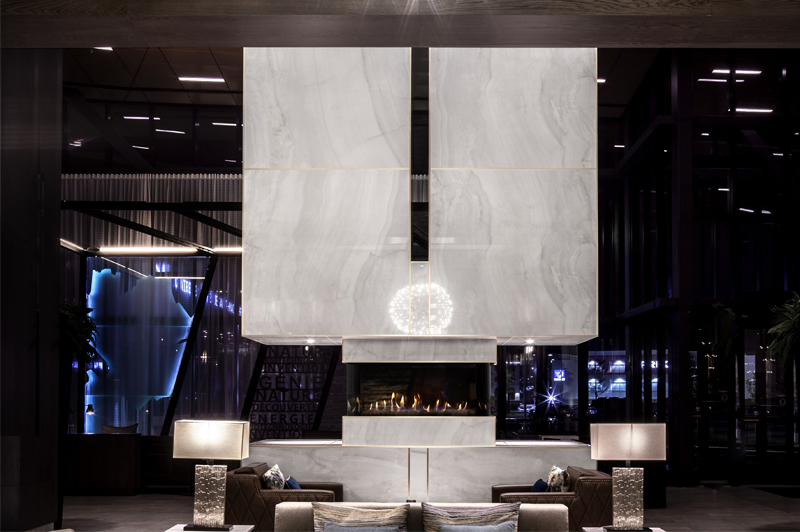 For some clients, adding a modern fireplace installation to their home might feel like an intimidating hurdle. Get more clarity about your clients' concerns and learn some of the most common myths that might be holding them back. The more prepared you are to answer questions about the modern fireplace you specify, the more likely it is to stay in the project. These FAQs should help you dispel some of the most common myths about modern fireplace installation.
Can modern gas fireplaces go in small spaces?
One of the greatest advantages of specifying a modern gas fireplace is that it allows for design flexibility even in small spaces. Smaller clearance areas give clients more freedom to arrange their furniture and place home decor items. Ortal fireplaces use innovative technology so that they can be installed without additional safety screens or mantels, which means they take up less space.
Can you hang items on the wall above a modern fireplace?
Modern gas fireplaces with Cool Wall Technology allow clients to safely hang either artwork or a television above the fireplace. This is an important question to ask during the design process because it can be very disappointing for clients if they envision something displayed over the fireplace and then later learn it isn't possible. Even if they don't plan to hang something there in the near future, they might eventually want that option. It's important to choose a fireplace manufacturer who offers that flexibility. Ortal fireplaces use Cool Wall Technology, which keeps walls at a safe temperature for artwork and electronics.
Do modern fireplaces actually produce heat?
Another important question to ask is whether your clients want the fireplace to be fully functional, providing both a captivating flame and delivering heat. Some modern gas fireplaces are designed to be purely decorative, which means they don't heat the space at all. If your clients are expecting cozy warmth from their new fireplace, make sure you choose a model that delivers. Ortal fireplaces have both a heat release and either a Double glass or micro-mesh Screen heat barrier. This combination provides heat to the space while protecting occupants from direct flames and hot glass.
Can you put a modern fireplace in a condo?
For clients who live in condominiums that might not allow for a traditional wood-burning fireplace because they are on a higher floor or don't have a chimney, you can still recommend a modern gas fireplace. There still might be limitations based on the distance from the wall to the exterior of the building, so it's important to choose a manufacturer that can meet the specific needs of the project. Ortal's Power Vent System increases the venting range by 50 feet and allows for three times the number of bends in the venting run, so you have the freedom to specify fireplaces in spaces where a traditional wood-burning fireplace can't go..
Does modern fireplace installation have to be done by a professional?
Yes, all types of fireplaces should be installed by a professional, ideally one who has National Fireplace Institute (NFI) certification. Most dealers provide installation or a list of installers they recommend. Ortal dealers can provide installation or detailed framing instructions to your client's builder.
Does a modern fireplace installation take longer?
Although the installation process is different, installing a modern gas fireplace takes about the same amount of time as a traditional wood-burning fireplace. The details are not the same, but the overall time to install is generally comparable.
Plan Your Next Project with Ortal
If you're considering specifying a modern gas fireplace, understanding all of the steps in the process will make selection and installation go smoothly. Your local Ortal dealer will help ensure that the modern fireplace installation is done safely and correctly; all your clients have to do is choose the model that matches their style and enjoy their new space.
Check out our Project Planning Checklist for more details about incorporating a modern gas fireplace into your next design project.