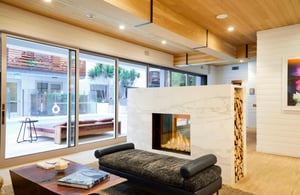 You want to install a beautifully designed, modern fireplace in your next commercial or residential project. You want warmth. You want beauty. You want safety. You want efficiency. The last thing you want is to get hit with a housing code violation in DC.
How do you find the perfect fireplace that stays within the limits of the law? If you build smart, you choose Ortal's direct vent gas fireplaces, which are manufactured and tested to meet the highest safety and efficiency standards around the world, including in the nation's capital.
What Does Washington, D.C. Say About Fireplaces?
Washington D.C. has adopted the regulations laid out by the International Code Council. Those include the 2012 International Residential Code, the 2012 International Building Code, and the 2012 International Energy Conservation Code.
The ICC rulebooks used by the D.C. area cover everything from chimney materials to firebox thickness. Although a lot of space is devoted to masonry fireplaces, factory-built units like Ortal's prefabricated gas fireplaces get their fair share of attention.
At a Glance: ICC Codes for Factory-Built Fireplaces
Here are a few of the rules governing factory-built fireplaces in Washington, D.C. (the full ICC code has more details):
All units must be installed according to the manufacturer's listed instructions.
The surrounding structure must be designed to bear the load of the fireplace.
The unit must be able to get all of its combustion air from outside the building.
It's still up to the installer to follow Ortal's instructions and check with local building codes, but we've done a lot of the work for you by manufacturing direct vent gas fireplaces that meet all the standards set out by the ICC.
Exceeding Expectations
Of course, it doesn't say much if you meet expectations. The goal is to exceed them. Ortal does just that. Our direct vent gas fireplaces are not only compliant with Washington, D.C. regulations; they set the bar for safety and efficiency.
Here are a few of the ways in which Ortal exceeds expectations:
Direct Vent and Power Vent Systems: All of Ortal fireplaces come with a balanced flue that uses natural ventilation to pull in outside air. Our power vent systems adds a forced air stream to help move exhaust outside of a building.
Heat Barrier and Screen: Our screen or double glass heat barrier keeps the fireplace enclosure at a safe temperature, so guests, pets, and children can touch the glass without risking a burn. Not only that, but our patented screen is virtually invisible to the eye, so you lose none of the beauty of the fireplace and general design.
Cool Wall Technology: Ortal's advanced Cool Wall Technology keeps the surrounding walls around the fireplace at a safe temperature. Our unique technology protects nearby walls, materials, artwork, and electronics from heat damage. That eliminates the need to comply with clearance zones. It also gives you the space to reimagine your design possibilities.
Rethink Compliance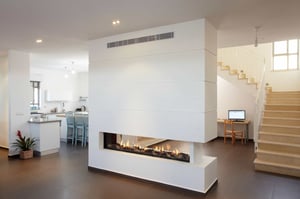 Compliance can be a hassle. It's time-consuming. It's costly. The sheer number of building codes and ordinances is enough to dampen your enthusiasm.
Of course, there's a reason for all those rules and regulations. They keep buildings safe from fire and damage. They keep residents safe from toxic fumes and dangerous flames. They also keep the environment safe from harmful pollutants.
When you choose Ortal, you skip the worry. Instead, you get the advantages of a fireplace that meets and transcends all Washington, D.C. requirements for safety and efficiency.
It's time to rethink compliance. Build Green. Build Safe. Build Ortal.