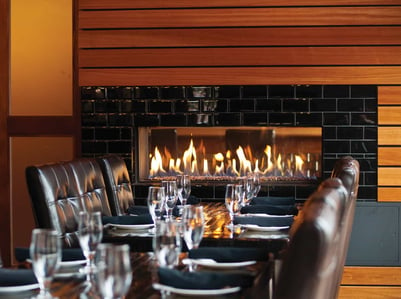 By providing visibility and exposure on both sides of a wall, Ortal's tunnel fireplaces are a stylish and versatile way to divide any space. With sleek lines and a see-through design, these modern updates on the traditional fireplace provide warmth and beauty on both sides of a room or on the interior and exterior of a building.
Modern Space Dividers
See-through fireplaces provide depth and interest by breaking up solid walls. By adding a glass-enclosed open flame, property owners can maintain separation between rooms while relieving the sense of monotony and claustrophobia that comes with a large, continuous surface.
Homeowners can also place a tunnel unit in a partial wall or column—a clever way to partition a room without cutting it into two isolated pieces. While the glass allows for a partial view of the other side, the fire draws the eye, providing a beautifully dynamic focal point.
These modern fireplaces don't just split up rooms within a house; they can also unite the interior and exterior of a home, pulling double duty as indoor/outdoor units. They bridge the divide, imbuing an outdoor patio with a sense of indoor comfort while bringing an outdoor ambiance into an interior room. Both sides benefit from the convivial warmth of a crackling flame.
Beauty from Every Angle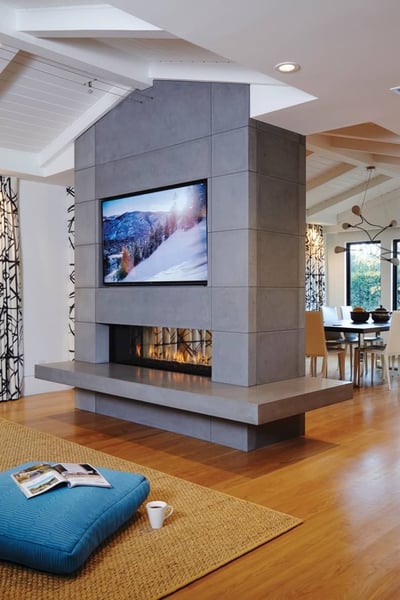 See-through fireplaces are versatile. From the homey comfort of a living room to the expansive luxury of a hotel lobby, a double-sided flame adds allure and comfort to any environment. Although it's common to adorn a living room, dining room, or lobby with a fireplace, tunnel units fit just as well into master suites and even bathrooms. Nestled between the bathtub and the sink, they provide a cozy heat to an otherwise drafty area, while adding a spa-like ambiance to the bathroom.
Finally, there's the versatility of the enclosing structure, which can feature any number of gorgeous materials, from granite or brick to glass or stucco, and adapt to any number of settings. Most people choose to match their new addition to the surrounding décor. Others prefer a fireplace that stands out and makes a bold statement.
Functional Craftsmanship
Ortal's tunnel fireplaces may be a contemporary design element, but they're more than a pleasing eyepiece. They're also highly practical, highly efficient units that can warm any interior or exterior space. Their utility is made possible by their excellent design, which doubles the functionality without doubling the hassle. Two openings, two hearths, two mantels, two faces—one fireplace.
Whether you're looking to warm up the cold tiles of a master bathroom suite or create a pleasing centerpiece for the foyer; whether you plan to watch the flames dance as you relax in bed with a glass of wine or as you gather with the family to watch the latest episode of your favorite show,
a see-through fireplace has the power to bring people together while separating distinct spaces.
Want to know more? Check out Ortal's gallery or browse through the catalog learn more about Ortal's stunning modern fireplaces.