Between the merely functional and the purely aesthetic lies the true home. Those spaces that invite you in, then make you feel safe, comfy and relaxed. The rooms that appeal not only to the eyes, but to the whole person. But what does it? What separates a pleasant room from a practical room? How can you design a space that's as welcoming as it is stunning? From a wall fireplace to a chunky wool blanket, here are a few ideas that can help you achieve that "lived-in" quality.
Install a Fireplace Wherever You Want Comfort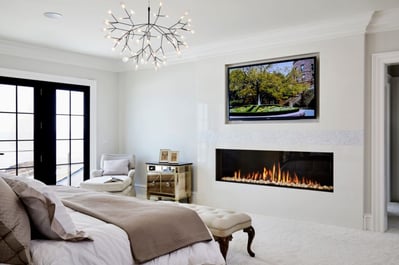 The hearth has always been the center of the home, but you don't have to stick with a traditional design to get that toasty feel. Modern frameless fireplaces also beckon with their beauty and warmth. Brick and stone surrounds have a more classic appearance, but granite, marble, or concrete can also work well when paired with softer, more textured materials.
With recent breakthroughs in venting and heating technology, you can now think beyond the living room. Spread the coziness around the house by placing a gas fireplace in a bedroom, bathroom, or even a transitional space like a hallway. The smaller or more intimate the space, the greater impact it will have.
Choose Softer, Rounder Furniture
Soft, curved sofas and chairs are easier on the eyes (and on the body) than furniture with hard edges and linear designs. At the very least, aim for rolled arms and soft cushions. If you're into a more contemporary look, combine round furniture with a modern, linear fireplace. The result is a nice sense of contrast—neither too cold nor too "down-homey."
Finally, arrange the furniture in a way that makes people want to sit down and have a real conversation. Pull sofas and chairs away from the wall and place them a comfortable distance from each other in order to encourage rapport and foster familiarity.
Warm Up Your Colors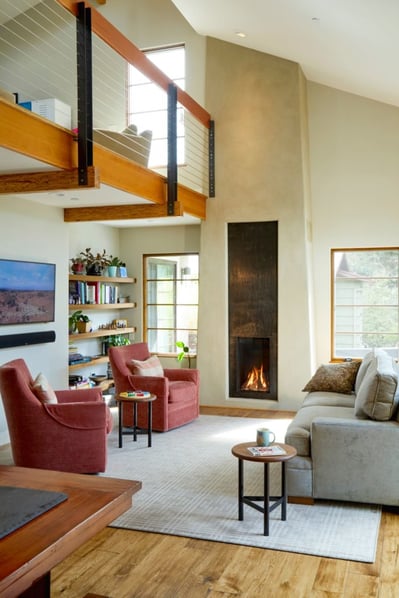 Whites and grays have had their day. Now more people are embracing warm neutrals and vibrant accents. It's a good thing, too. A little pink here or a little touch of yellow there can cheer up any room. Even a warmer shade of off-white can take a room from cold to convivial.
If you prefer a cooler, more minimalist color scheme, try incorporating a few colorful pillows, a single leather chair, or even a fluffy blanket featuring earth tones. You can also offset the monotony by crafting a stunning fireplace surround that stands out from the background. Whether you opt for red brick or striated marble, a little color and texture can take the room to the next level.
Add and Layer Textures
Speaking of texture, never underestimate the power of an area rug, a throw pillow, a blanket, or even a window treatment. From linen drapes to chunky knit blankets, from textured wood to grass cloth wallpaper, natural materials appeal more than hard, synthetic materials. They catch the eye and invite you to touch them.
That doesn't mean you have to go rustic to feel at home. A few layered fabrics, a single blanket, or even a simple wood statue will do the job. You can also throw in baskets, potted plants, and sculptures to add more interest and depth.
Reimagine Comfort
If you really want to create a welcoming atmosphere, you'll need to think about every detail, including the lighting (aim for warm ambient lighting with tasty accent lighting), the décor (make sure you add at least a few personal pieces), and the aroma (smell is a powerful sense— one that far too many homeowners ignore when trying to create the perfect home).
All of that being said, a fireplace is the single most important upgrade you can make. When it comes to creating warmth, cheer, and comfort, nothing has a more profound impact. Want to discover what a modern direct vent fireplace can do for your home? Browse through our gallery to get all the inspiration you could ever want.