Ortal has long been recognized as a global innovator of modern fireplace design. Our engineers and designers have been hard at work for more than 30 years refining the cutting-edge technology and sleek design elements that make Ortal fireplaces the preferred choice among architects, builders, and interior designers for luxury home interior projects.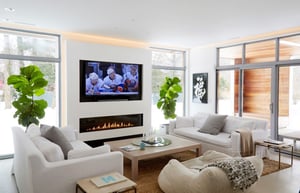 A Legacy of Luxury, Innovation, and Safety
Ortal was one of the first luxury fireplace designers to tackle the safety challenges and design restrictions associated with modern gas fireplaces. Efficient operation, clean ventilation, heat safety, and design flexibility are all core parts of Ortal's mission. Here's what sets Ortal apart.
Versatile Design
Ortal is a design pioneer. Our fireplaces can be incorporated into virtually any space, large or small, wide or narrow. With front-facing, tunnel, corner, three-sided, standalone, space creator, and indoor-outdoor/double-sided fireplaces in our extensive catalog, architects, builders, and designers enjoy the freedom of making their creative vision a reality.
Heat Barrier Solutions
Ortal offers two ingenious solutions—a micromesh screen heat barrier, and a double glass system—to comply with U.S. Consumer Product Safety Commission regulations concerning the temperature of the outermost panel on glass-enclosed fireplaces.
Our double glass system features small, silent cooling fans that circulate air between the two glass layers; this keeps the outer glass panel dramatically cooler than would otherwise be possible.
Our micromesh screen stretches around the fireplace without obstructing the view of the flames, regardless of viewing angle.
Both solutions meet regulations requiring a temperature of no more than 172 degrees Fahrenheit for the outermost glass panel. And, they maintain the integrity of Ortal's signature frameless design—our engineers skillfully produced a safe design without any compromise to aesthetics.
Cool Wall Technology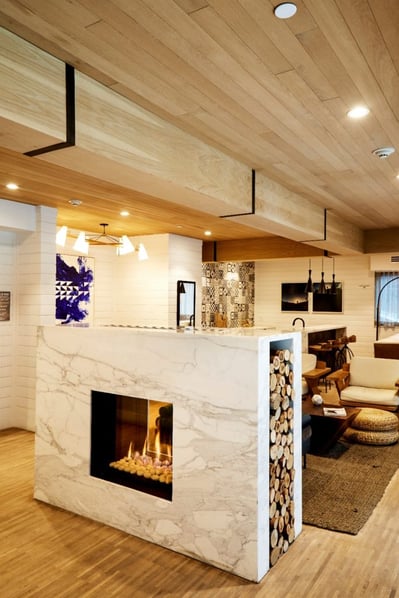 One of our most revolutionary innovations, Cool Wall Technology is a designer's best friend. Our engineers have designed a technique to reduce the heat buildup from the firebox by allowing the heat to safely vent out. Without this technology, the wall temperature can reach 280-380 degrees Fahrenheit from 0 to 6 inches above the fireplace; with Cool Wall Technology, the wall temperature averages between 100-120 degrees.
This dramatic temperature difference changes the game for builders, interior designers, and architects by dramatically increasing possibilities for which materials—from tile to wood to stone—can be used above and around the fireplace. It also makes it possible to safely mount treasured artwork and electronics above the fireplace.
Direct Vent System
All Ortal fireplaces feature an innovative co-axial flue system that nests the exhaust pipe inside the fresh air intake. Air is drawn from outside the building and exhaust is expelled outside the building. The sealed glass front prevents gases from escaping into the room, making Ortal one of the best choices available today.
Our power-vent system increases venting range by 50 feet, creating even more design possibilities. It's these innovations that inspire luxury hotels, spas, restaurants, and homeowners across the country and around the world to choose Ortal.
Rediscover Innovation with Ortal
Beautiful design. Efficient operation. Luxurious experience. That's the Ortal difference. Learn more about Ortal's advantages, explore our catalog, and call us to learn more about our end-to-end project support.