For more than 30 years Ortal has helped pave the way in modern gas fireplace design and elevate the interior design of countless homes, luxury hotels and spas, upscale restaurants, and other establishments across North America and around the world.
Today, Ortal is the premier designer and builder of high-quality frameless gas fireplaces.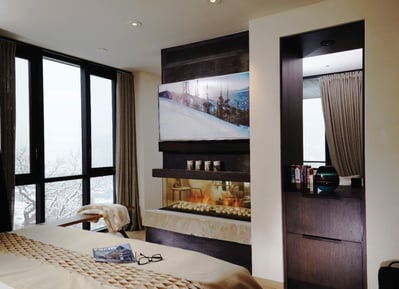 The Most Efficient Direct-Vent Gas Fireplaces on the Market Today
Businesses want energy-efficient appliances that bring significant cost savings every year—especially establishments with large overhead costs and energy expenditures, like hotels, spas, and restaurants.
If you're a builder or designer, your priority is recommending and installing cost-effective solutions for your clients—and Ortal delivers real value.
Ortal's Sealed Ventilation System Is More Efficient
Ortal's innovative burner design ensures the cleanest possible use of gas, combining optimal warmth and heat savings. This makes our fireplaces among the most efficient gas fireplaces for heat available today.
Traditional wood-burning fireplaces lose as much as 80 percent of their heat through the chimney, and other gas fireplace models allow heated air to escape through ports in the firebox and through open doors at the front of the fireplace.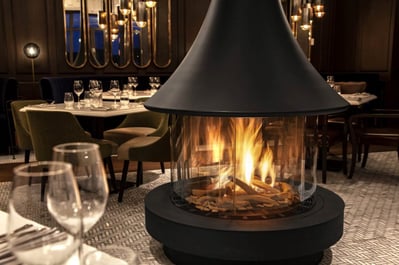 Contrast this with Ortal's efficient design, which features a sealed glass front and innovative direct-vent system that work in concert to retain more heat and safely vent exhaust. Here's how Ortal's system works:
Ortal's fireplaces use a co-axial flue system, in which the exhaust pipe is nested inside the fresh air intake pipe; the air intake draws cool air in from outside the building to be heated in the firebox; as combustion gases and residual hot air exit through the exhaust pipe to the outside of the building, cooler air is drawn in, creating a natural convection loop.
The sealed glass front is designed so that the combustion air is not drawn in from the room and will not affect the air quality inside your home.
The radiant heat produced by the fireplace efficiently heats the room.
When it comes to safety and air quality, Ortal is an industry champion.
Wood-burning hearths and stoves release 28 times more fine particulates than Ortal direct-vent fireplaces. And while wood-burning fireplaces and open-front gas fireplaces provide little to no protection from burns, Ortal's heat barrier solutions dramatically reduce the temperature of the outer glass panel, in compliance with U.S. Consumer Product Safety Commission regulations.
Ortal fireplaces are certified by CSA Group, the number one provider of testing and certification for gas appliances in North America.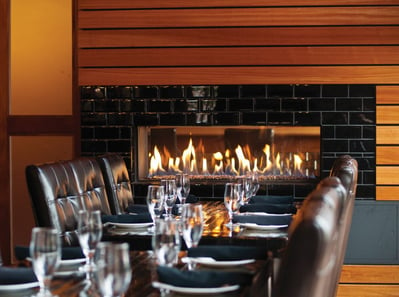 For many business owners, the air quality and greater overall safety associated with direct-vent fireplaces in comparison to wood-burning or ventless fireplaces make the choice simple. With Ortal's direct vent fireplace options, you can be sure that you're contributing to a cleaner and greener environment.
Rethink Safety. Reimagine Versatility.
Beyond safe design, fuel efficiency, and consistently reliable performance, Ortal is a designer's best friend.
Ortal's Cool Wall Technology and Power Vent System dramatically broaden where our fireplaces can be placed and which finishing materials can be used on the walls above and around the fireplace. Learn more about these and other advantages and view our extensive catalog and installation manual for more details about our products.