Why waste time and money bringing a masonry fireplace up to compliance when you can get a safe, green, and fully compliant direct vent gas fireplace from Ortal?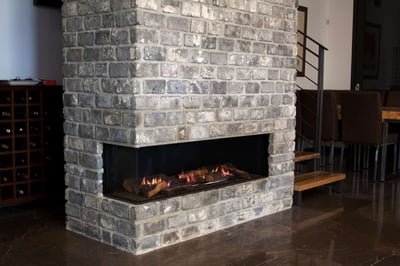 The Problem with Building Codes
Complying with regulations may be one of the most daunting tasks facing builders, architects, and contractors. It doesn't help that Illinois is home to a pastiche1 of local codes, with each municipality selecting its own assortment of regulations. Many rely on the International Building Code, a set of guidelines used throughout the world. Others, like Chicago, have their own unique building code.2
By the time you make heads or tails of it, you're almost ready to give up on the idea of a fireplace. Meeting standards takes time, and time is money. Still, it's up to builders to ensure that they're following all the necessary requirements.
How to Meet Illinois Standards Without Wasting and Money
The good news is that Ortal is here to help Illinois builders. Our modern fireplaces not only feature beautiful, contemporary designs; they're also built to accommodate the toughest building and environmental codes. That's because our state-of-the-art units eliminate many of the problems that come with older, less efficient models. With Ortal you get all of the information you need at the tip of your fingers. All spec and framing requirements are available to you on our website, on every model page.
For starters, they rely on direct vent technology, which means they require no elaborate masonry. or extensive hearth. That can mean the difference between a compliance nightmare and a quick solution to a complicated problem. It can also mean the difference between a gorgeous fireplace and no fireplace at all.
What Sets Direct Vent Fireplaces Apart?
Why? Because almost every component of a masonry fireplace must be constructed on-site according to strict standards. Chimneys must be made of certain materials, hearths must extend a certain distance from the fireplace opening, combustible materials must be placed far enough from the flame, etc.
No room for a chimney? No fireplace. No room for combustible materials? You get the point.
The do and don't list for Ortal's direct vent fireplaces is significantly shorter, and the job of compliance is up to us. Indeed, when it comes to factory-built units, Illinois building requirements transfer the burden of testing from the installer to the manufacturer.
What Sets Ortal's Fireplaces Apart?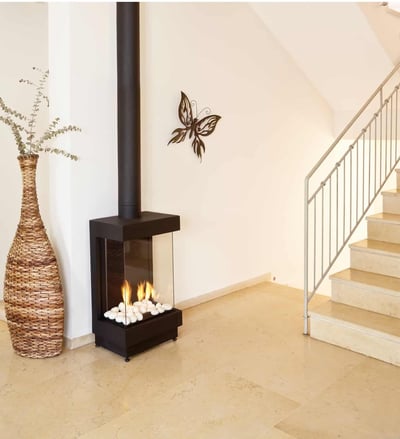 Ortal fireplaces also come with a long list of advantages. Ortal's Cool Wall technology, for example, allows you to place the units next to combustible materials without fear of fire. Design the surrounding of the fireplace with any sensitive material that tickles your fancy such as marble or even fabric without fear that the walls will crack or overheat. In the long run, this reduces not only compliance costs but, damage and remodeling costs.
In short, we've done the work to ensure that our modern fireplaces are fully compliant, whether they are headed to a living room in Peoria, a hotel lobby in Chicago, or an apartment bedroom in Joliet.
Compliance Without Headaches, Design Without Limitations
Ortal's advantages open up a whole new world of design possibilities. You can place Ortal's fireplaces almost anywhere within a residential or commercial space in Illinois without worrying about chimney and flue requirements or the safety of materials and residents.
Take the guesswork out of compliance. Choose Ortal's modern fireplaces for ultimate design capabilities, maximum safety, and optimum efficiency. Build beautifully. Build smart. Build Ortal.