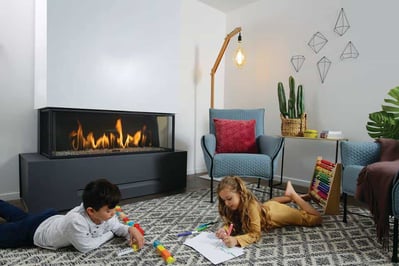 For over three decades, Ortal has manufactured high-end fireplaces that push the limits of design and technology. Now, we're proud to unveil the Lyric Line, a series of beautiful modern gas fireplaces designed for consumers who want all the advantages of an Ortal fireplace with even greater value.
Beauty
Ortal fireplaces are renowned for their beauty. Their sleek shape. Their clean lines. Their seamless design. From the nearly invisible mesh safety screen to our power vent, every detail adds to the style of the space and the allure of the fire.
With the new Lyric Line, you lose none of the aesthetic appeal that sets an Ortal fireplace apart from the competition. Built within the 100-size range, each fireplace seamlessly integrates into walls and complements surrounding architectural elements.
Our Lyric fireplaces are also slimmer and shallower. With less depth, you get greater flexibility. Install your dream fireplace nearly anywhere in a home or office without the need to expand walls.
High-quality construction, a beautiful finish, and impeccable attention to detail define every unit. The end result is an incredible fireplace that has the power to enhance the profile of any home.
Technology
Our streamlined Lyric Line is more convenient and accessible than ever, but that doesn't mean we skimped on the technical side. You can still opt for the latest technological advances like our patented Cool Wall Technology, which lets you hang TVs or pieces of artwork directly above the fireplace without fretting about heat damage.
You also get our state-of-the-art power vent, which blends efficiency with aesthetic appeal. Finally, our semi-transparent Safety Screen Barrier comes standard with each unit, so you get robust safety that doesn't detract from the viewing experience.
Options
When we created the Lyric Line, we decided to simplify the options, making it easier than ever for consumers to customize their fireplace to fit their home and lifestyle. Even with our pared-down offering, you can still choose from six distinct fireplace models:
Front: A traditional setup, the Front model sits snugly against a wall and faces out to the room.
Corner: Our Corner models present a full front view and one side view, for a more dynamic look. Depending on the layout of the room or lobby, you can choose between a left-sided or a right-sided
Three Side: Our Three Side fireplaces provide a full, three-dimensional view of the flame.
Peninsula: Separate your living spaces with this beautifully designed modern fireplace.
See Through: Partition a large room or gathering space with one of our See Through fireplaces. These beautiful space-dividing units are embedded within a wall or column, providing a view from both sides of the partition.
Stand Alone: Add a stunning, direct vent gas fireplace to your home without renovating the entire room or replacing a wall.
Media
The choices don't end there. When you purchase a Lyric model, you can also select what type of internal media you prefer to burn inside your fireplace. Pick from four different types of glass—black, copper, cobalt blue, and crystal. Prefer a more traditional look? You can always request an alternative.
Redefining Luxury
At Ortal, we're proud to put beautiful, cutting-edge fireplaces in more homes and more commercial spaces around the world. That's why we created the Lyric Line. With our new models, you get a value-engineered fireplace with none of the second-rate materials or fabrication that competitors offer. You still get Ortal's flawless design, craftsmanship, and quality—only with greater convenience. Browse through our Lyric line catalog to learn more about how we're making luxury more accessible.