If you're considering buying a fixer upper or your existing home needs a serious makeover, deciding whether to remodel or rebuild can be an agonizing decision. Which option—renovating or rebuilding—is more cost-effective is also a hotly debated topic among contractors, architects, and real estate pros.
Rebuilding allows you to make your dreams (or your client's) a reality—adding a home theater, contemporary fireplace, or game room, for example. Remodeling to accommodate such features can be challenging, if not impossible.
Here are 5 questions to help you determine the best option for your situation.
Does the town/city have restrictions on tear-downs?
First things first. Depending on where the home is located and its attributes, tearing down may not even be an option. Some city councils prohibit houses of historical importance or those of a certain age from being demolished or significantly changed. If you're not sure of the home's age, you may have to seek out records from the local city council.
Does the home have unique character and charm?
Many home features can be reimagined or replicated to some degree in a home rebuild, but certain materials may be difficult or impossible to replace. Antique wood flooring, stonework, wall niches, wood ceiling beams, old doors, a dumbwaiter—features like these may be irreplaceable or might not make sense in a brand-new home.
Is the home structurally unsound?
Natural disasters and time itself can damage a home's structure. Did the home sustain significant water damage after a flood? Does it have foundation issues? Was it built before current earthquake codes and damaged after an earthquake? These are all scenarios that could make a rebuild the more financially sound choice. It's best to have the home evaluated by a structural engineer before making such a big decision, however.
What is your budget?
Some towns/cities won't allow homes of a certain age/historical significance to be torn down.
If the home is old and hasn't been well-maintained, an expansive renovation may be an overwhelming prospect. You may need to more or less gut the home to bring all the rooms as well as the heating and cooling, electrical, and plumbing systems up to date. And renovations are usually never as straightforward as one might hope—unexpected costs from issues like mold, structural problems, and excavation surprises are common.
Experts advise choosing a renovation only if remodeling costs are considerably less than new construction, with one caveat: If you want to keep the home's historical attributes or if the existing home's historical significance greatly impacts its desirability and value, renovation is the better choice.
What's your preference?
If you're not restricted to renovations because of city codes, your (or your client's) personal preferences are a major factor. Suppose you inherited a home from a family member, you love the neighborhood, and you want to live in the home. But you're not crazy about the existing structure, and you love the idea of a brand-new home you can design to your exact specifications. In this case, a rebuild might make more sense.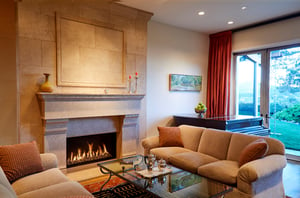 Rebuild Your Fire with Ortal
Whether you choose to renovate or rebuild, Ortal contemporary gas fireplaces can be incorporated into any home, whether it's rustic mountain retreat, a tastefully constructed Craftsman home, or an opulent Victorian row house.
Ortal offers a range of fireplace styles, from tunnel-style models to free standing gas fireplaces to traditional hearths. Ortal's cutting-edge technology makes it possible to install our fireplaces in places once off limits, like corner spaces and upstairs bedrooms. Learn more about what sets Ortal apart and view our gallery for inspiration on your next project.