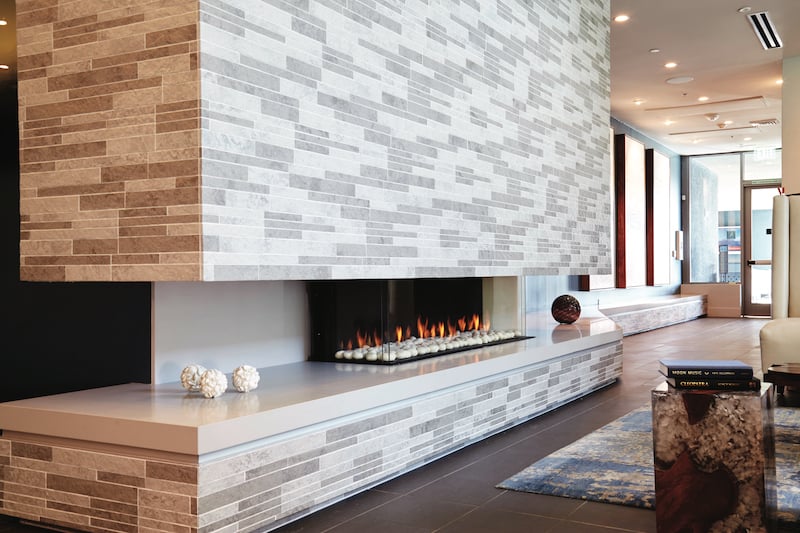 The more information you have about a line of luxury fireplaces, the better able you are to sell it. Customers always have questions, and savvy shoppers like to compare their options, especially for major purchases. This is why Ortal provides a range of dealer resources that you can access at any time.
Top 10 Dealer Resources That Can Help You Sell Fireplaces
When you can provide all of the details about luxury fireplaces, your customers will come to you time and again as a trusted resource. Check out these dealer resources from Ortal to stay ahead of the competition and provide the best possible service.
1. Product gallery
For many customers, the look of a fireplace is one of the primary drivers when making a purchasing decision. When customers are searching for a certain aesthetic, high-quality images can help them picture similar models in their own homes. The Ortal gallery shows a broad range of styles and sizes in different settings to help your customers envision the possibilities. Of course, many modern fireplaces look similar, so more information is needed before a purchasing decision can be made. This is why it's so important to have more resources than just fireplace images.
2. Catalog
A sleek catalog describes all of the different styles and shows use cases for each model. Send your customers home with an Ortal catalog so they can keep dreaming about their future luxury fireplace and show their friends. Having a catalog they can reference at home, either online or a physical copy, will keep their potential purchase top of mind.
3. Showroom resources
Help your customers envision their new luxury fireplace with interior media display stands. They can touch and feel product samples to see the quality first-hand, and an iPad with the Ortal app allows them to configure the fireplace of their dreams. You can also put a digital slideshow on in-store televisions to inspire design ideas. A large acrylic logo and window decals let prospective customers know you carry the Ortal line of fireplaces.
4. Manuals
Whereas some people are driven by aesthetics, others want to know all of the technical details. Dealers have access to all of the manuals, so you can either answer questions yourself or work with the installation and building team as needed..
5. Venting data
Ortal's power vent system is one of the unique features that enable superior design freedom. When helping customers choose the right fireplace, it's important to know which type of venting system will enable them to achieve their vision. Even if they don't understand all of the nuances, having a dealer who does will make them feel more confident in their purchasing decisions.
6. Smart home setup diagram
In the modern world of smart homes, many customers want the operation of their fireplace to be integrated into their systems. Ortal provides a smart home wiring diagram that simplifies the setup process. Offering fireplace options with smart home features allows you to stay ahead of the curve and meet your customers where they are.
7. Warranty information
When making an investment in their homes, many customers want to know about their warranty options. Ortal provides a warranty on all products and includes a registration form for dealers with a checklist to ensure that all installation steps have been followed.
8. How-to videos
Manuals are a necessary resource, but sometimes seeing the installation process in action is more valuable. Ortal provides a library of how-to videos to help installers learn every detail, which means a better experience for your customers.
9. Frequently asked questions
People who are shopping for luxury fireplaces often have many questions. Whether they want to know about efficiency, safety, or operation, Ortal has the answers. Our comprehensive FAQ page addresses the most common inquiries so you can be armed with all the information you need.
10. Ortal Academy
Ortal Academy is a two-day training program designed for dealers. Hosted at our Canoga location, dealer's receive personal, in-depth training on everything Ortal, covering topics from sales language to technical details.
Become an Ortal Dealer
Ortal's dealer resources are designed to help you sell with high-quality images, an annual catalog that is updated with new styles, and all of the technical data you need to answer any questions that arise. In addition, our Regional Sales Managers are a local resource for our dealers providing in-person support. If you'd like to learn more about becoming an Ortal dealer, schedule a meeting today. If you're already an Ortal dealer, reach out to us at any time to see what's new in the product line and what dealer resources you can use to sell more luxury fireplaces.