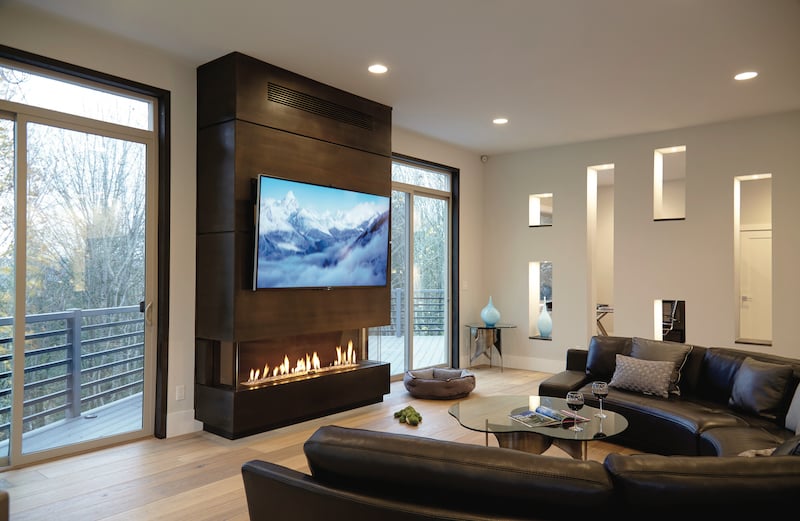 Gathering around the hearth is a classic way for families to bond and spend time together. For many modern families, gathering around the TV serves the same purpose. With traditional wood-burning fireplaces, your clients have to make a choice about the focal point of a room—fireplace or TV—but with some modern gas fireplaces, they can have the best of both worlds.
Contemporary living room design often incorporates 21st-century features such as wall-mounted televisions, smart home gadgets, and advanced sound systems. Although large masonry fireplaces are not as common with the contemporary aesthetic, many clients do want some version of this classic feature. If you are working on an interior design project with a client who wants a TV above the fireplace, use these tips to help guide your decisions.
1. Consider Fireplace Functionality
Traditional wood-burning fireplaces provide ample warmth and a comforting glow, but they also present significant design limitations because the wall behind the hearth gets too hot for a TV. One solution is a modern gas fireplace, but it's important to know that not every model operates in the same way. For example, some gas fireplaces look amazing, but they don't produce any heat. Others are capable of heating a room but have the same drawback as the wood-burning alternative—the wall gets too hot.
If your clients want a fireplace that both provides heat and allows them to install a TV above, the answer is a model that includes Cool Wall Technology, which keeps the wall above much cooler than fireplaces that don't use this technology. For example, 12 inches above the firebox, Cool Wall Technology keeps the temperature around 80 degrees Fahrenheit. Without this technology, the temperature could range from 180-300 degrees. For reference, most TV manufacturers recommend keeping the temperature below 100 degrees to prevent damage.
2. Plan Ahead with Electrical Conduits
If you are remodeling an existing space or incorporating contemporary living room design into a new home, use this opportunity to include electrical conduits above the fireplace in the plans. Even if you're not sure whether they will be used in the future, planning for a TV above the fireplace will save your clients extra work if they decide to install one later. Think about whether speakers will be placed on the same wall and plan accordingly so everything can be done in a single installation.
3. Consider the Finishing Materials
Depending on the aesthetic you are trying to achieve, you might want the TV to blend into the background or be the center of attention. Either way, Cool Wall Technology allows you to match any style with the ability to use limitless finish materials. For example, in a den you might want the TV to be integrated into a built-in wall cabinet surrounding the fireplace, with doors so you can conceal it when not in use. In a modern living room, putting the TV into a sunken niche above the fireplace keeps it low-profile and stylish, whether it's surrounded by plaster or sleek tile. In a media room, where the TV is the star, you might want to find the perfect viewing angle with a mounting system that allows you to tilt it as needed. No matter what your goals are, Cool Wall Technology gives you the freedom to design around them.
Choose the Right Fireplace for Each Client
Contemporary living room design is about more than just the aesthetics of the space. Functionality must also be considered, especially for features that are the central focus of a room. Modern families share living spaces in many different ways—playing video games, watching movies, playing games by the fire, and more. Accommodating all of these uses is certainly possible, but only with the right types of features and furnishings. To learn more about choosing the right fireplaces for your clients, read our Buyer's Guide: Selecting a Luxury Fireplace for Your Next Project.