For many people, when they envision a fireplace, the mantel above it is a key feature. It's where keepsakes, family photos, and other decor are displayed. It's a place where seasonal decorations come out of storage once a year to spark fond memories. In many homes, the mantel is the centerpiece of the room.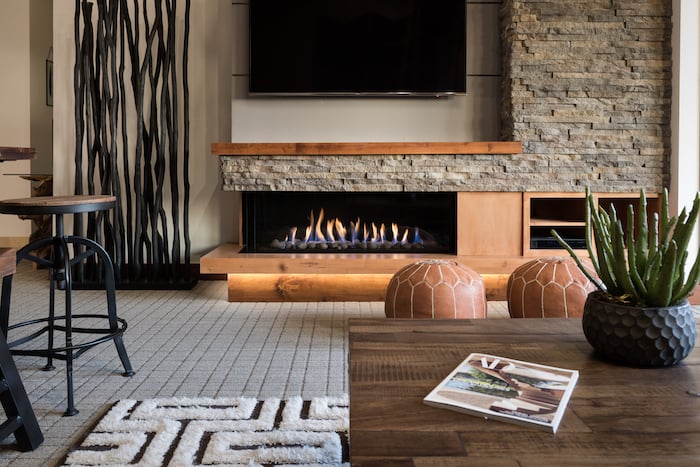 Historically, a fireplace mantel was required to help prevent smoke from escaping from the grate. However, modern fireplace technology has virtually eliminated the need for a mantel. Although it may no longer be necessary, many people want to include this time-honored feature when generating contemporary fireplace mantel design ideas. Fortunately, because the function of the mantel is no longer required, you have the design freedom to create an innovative look.
Contemporary Fireplace Mantel Design Ideas
No matter what trends in contemporary living room design your clients prefer, you can design a decorative mantel to match.
Rustic Luxury
Combining materials and palettes will give any home a unique aesthetic, and if rustic luxury is the look you're going for, a mantel could be a key component of the design. Use a single wood beam to create a simple, natural mantel. Depending on the shape, you can evoke a heavy, bold effect or a sleek, streamlined theme. For a more rustic look, leave the wood rough-hewn or include a live edge facing the room. When combined with other materials such as marble, tasteful wallpaper, or slate, the contrast of the wood makes a sophisticated statement.
Stone Texture
If the wall surrounding the fireplace is made of stone, use the material itself to create the mantel. Extend or rotate pieces above the grate to create a shelf. Depending on the type of stone being used, it can be either a smooth shelf or one that is playfully irregular. You can also incorporate one larger horizontal piece of stone to create a uniform mantel that blends into the backdrop. Either way, the mantel will integrate seamlessly into the space and create an elegant visual texture.
Sculptural Elegance
You have total design freedom, so why not use it? Create a sculptural mantel from a range of materials, including driftwood, metal, stone, plaster, and more. Whether your clients' tastes lean toward the sharp edges of modern art or the organic curves of natural materials, you can create a look that is totally unique.
Playful Patterns
The mantel is an opportunity to show some personality. Work with your clients to find a personal element that you can incorporate into the design. Perhaps they told you about the intricately patterned tile they saw on their last trip to Turkey. Maybe they want to honor their memories of the colorful decor in their childhood living room. Identify the imagery that will bring a smile every time they see it and incorporate it into your mantel design.
Turn the Corner
If you are designing a corner or three-sided fireplace, don't limit the mantel to just one wall. Extending a mantel to wrap around one or two corners creates an eye-catching effect, especially if it is coordinated with the other design elements in the room. Clients might also appreciate the extra surface area if they are planning to use the shelf to display items.
The Layered Look
Although it's possible to create a floating shelf look with a modern mantel, some clients prefer an updated traditional look that ties the whole fireplace together. Use a combination of materials for the surround, hearth, trim panels, and mantel. This might include stone or tile for the surround, painted wood trim, and a stained wood mantel. Of course, material selection for a layered look provides plenty of room for creativity. Using modern materials such as slate or weathering steel can help make a more traditional style feel fresh and contemporary.
Embrace Asymmetry
Although most fireplace mantels are centered directly above the grate, there is no rule that says it has to be this way (at least not with modern gas fireplaces). Well-placed asymmetry is eye-catching in the best way. Frame a fireplace with a wide band and place the mantel in such a way that it extends beyond one of the borders. Don't use a frame at all and place a cantilevered shelf asymmetrically over the fireplace, possibly extending to a wall on one side. Wrap one side of the mantel all the way down to the floor to create a minimalist frame. If your client wants both a TV and a mantel, offset them to create multiple focal points. No matter what the design parameters are, the mantel options are endless.
Mantel Design with Maximum Creativity
Fireplace mantels may no longer be necessary, but that doesn't mean they should disappear altogether. Take advantage of the opportunity to create a modern luxury look that is truly unique. The design possibilities are limited only by your creativity, so start with a blank slate and see what develops. To explore features beyond contemporary fireplace mantel design ideas, download our Buyer's Guide: Selecting a Luxury Fireplace for Your Next Project.