Both designers and homeowners have plenty of options when selecting a fireplace. Aesthetics are, of course, a major factor, but many modern fireplace manufacturers offer similar-looking options for corner, tunnel, and space creator models. With so many contemporary fireplace options, it can be difficult for consumers to distinguish the differences between them.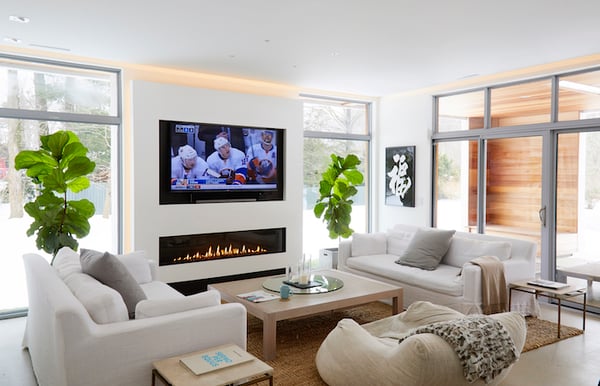 Not all of them offer the same benefits behind the scenes. Understanding what differentiates various fireplaces from others is critical for offering the solutions that will lead to satisfied customers. Ortal's patented Cool Wall Technology is one of the primary features that make this line of contemporary fireplaces stand out from others that might look similar.
The Benefits of Cool Wall Technology
Many manufacturers offer cool wall solutions, but they do not all use the same patented technology. These are the specific benefits that Ortal offers over other alternatives.
The basics
The main selling point for Cool Wall Technology is that it keeps the walls surrounding the fireplace cool while still allowing heat to enter the room. This includes the wall above the fireplace, which many people want to incorporate into their decor. It works by enabling the flow of cool air between the fireplace and the surrounding walls.
Unlike many other fireplace manufacturers that are able to cool the surrounding walls down, Ortal does it without sacrificing heat. This means that your customers don't have to decide between getting the look they want and having a functional fireplace—they can have both.
No mantel required
Many people assume that every fireplace must have a mantel. With modern innovations, including Cool Wall Technology, this is no longer a necessity. Of course, if your customer wants a mantel for aesthetic reasons, this is totally possible. In fact, they can now have a range of mantel styles and shapes, with much more flexibility in terms of placement as well.
Safe for TVs and artwork
Keeping the wall above the fireplace below a certain temperature allows customers to install artwork, a TV, or other electronics above and near the fireplace. For anybody who wants a TV above the fireplace, especially without a mantel, and doesn't want to sacrifice heat to get it, Cool Wall Technology is an excellent solution.
Removes design limitations
Surround materials and finishes on the wall above are no longer limited to just a handful of materials that can withstand heat. Designers can use a range of materials—including wood, paint, wallpaper, marble, tile, and more—on the surrounding walls and floor. Unlike with fireplaces that do not use Cool Wall Technology, these materials do not have to be noncombustible. This opens up countless design possibilities that other fireplaces can't match.
Freedom with furnishings
Homeowners can place furniture and other decorative items closer to the fireplace when it uses Cool Wall Technology. Unlike with a traditional fireplace that requires larger clearances, you can get closer to the hearth. This enables more freedom for people to decorate however they want to, without giving up valuable floor space to clearances. This is also a beneficial feature for clients who want to put a fireplace in a smaller room.
Quieter operation
Unlike many other manufacturers that offer fireplaces with cool walls, Ortal is noise-free. Most other manufacturers use noisy fans to remove the heat. This not only disrupts the peaceful environment in a room, but it also makes the fireplace less functional as it draws the heat away.
Understanding Ortal's Advantages
Not all modern fireplaces are the same, even if they have a similar look. For homeowners and designers considering a contemporary gas fireplace, Cool Wall Technology is a key feature. However, not all manufacturers that offer fireplaces with cool walls provide the same benefits as Ortal's patented system.
The better you are able to talk about these key benefits, the better your customers will understand why investing in a fireplace with Cool Wall Technology is worth it. They will get the luxury look they want and the ability to design around the fireplace without giving up any of the function. To learn more about the benefits of Ortal's Cool Wall Technology and other key features, schedule a meeting with an Ortal fireplace expert today.