It's hard to imagine a time when there were almost no accommodations for people with disabilities—in public spaces, homes, or transportation. Yet, many disabled people can still vividly remember the challenges of trying to get around and work in a world designed exclusively for the able-bodied people.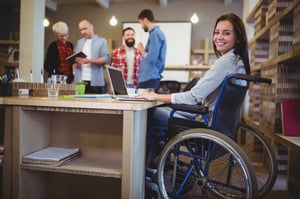 Then came the Americans with Disabilities Act (ADA). Passed in 1990, the ADA is a hard-fought civil rights law that prevents discrimination against people with disabilities and improves accessibility standards.
The ADA gives people with physical and intellectual disabilities equal opportunity to use public transportation, find jobs, and access government services.
How the ADA Affects Interior Design
In 2010, the ADA was updated to include specific building design requirements to make public buildings—like movie theaters, libraries, restaurants, hotels, medical facilities, and health clubs—accessible to people with disabilities.
Interior design professionals who work on public structures are the most impacted by the ADA. They must comply with the ADA's accessibility requirements when working on new building construction.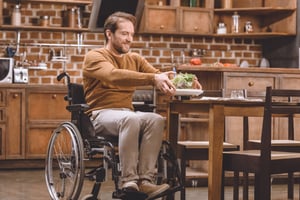 For existing facilities, designers must remove structural and communication barriers in public areas whenever doing so is "readily achievable"--in other words, when they can make the changes easily and at a reasonable expense. Simple things like adding non-slip ramps and installing lower handrails are some examples. "Readily achievable" is somewhat subjective, so judgments are made on a case-by-case basis.
On the other hand, the ADA does not apply to private homes or apartment buildings—unless any portion of the residence is used to accommodate members of the public (e.g., a doctor's office or day care center). So, designers who work in private residences can make their designs as creative and quirky as they like.
Still, many designers who work within private residences have embraced the concept of accessible design. They know good design is about balancing creativity with practicality.
Thankfully, making private homes better for people of different abilities is often easy to achieve. Simple additions and alterations can make a huge difference. Things like: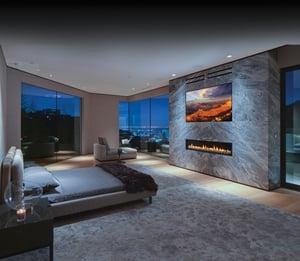 Open-concept, single-story floor plans
Wide doorways and hallways
Accessible countertops and storage
Replacing hard-to-clean surfaces with stainless steel
Easy-access switches for lighting, garbage disposal, gas fireplace, etc.
Smart technology features (e.g., app-controlled door locks, window shades, lights, etc.)
With a bit of thoughtful planning and creativity, designers can help construct spaces that everyone can enjoy, regardless of ability.
Ortal: Paving the Way in Innovative, Accessible Design
Ortal's line of contemporary fireplaces are ADA-compatible and easy to operate and maintain. Ortal fireplaces include a remote control that operates the ignition, timer, and thermostat, as well as other optional features. Ortal also offers wall control units, which can be integrated into existing smart home systems.
Modern fireplace design and cutting-edge technology—it's why Ortal is the preferred choice among designers and architects around the world. View our full catalog of fireplace styles and browse our gallery for inspiration on your next project.