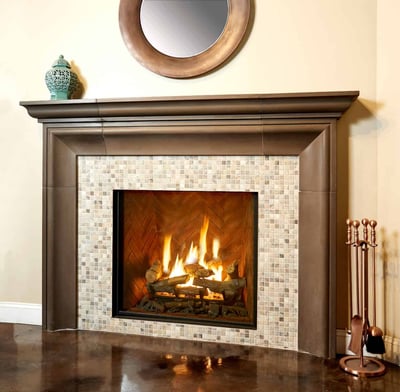 The California Building Code is strict and comprehensive. It sets rigorous standards for the design, construction, and remodeling of buildings. There's no detail too small to fall under its purview, and that includes fireplaces. Every time a builder or contractor installs a new fireplace in a California home, they must first check each feature to ensure that it complies with the regulations.
The guidelines are meant to ensure safety, sustainability, consistency, and reliability. Updated every three years, the latest version went into effect on New Years' day 2017. Among other things, the code dictates what kind of materials builders may use and what kind of materials they may not use when constructing and installing a new fireplace.
Masonry Materials
A masonry fireplace is built into a home or commercial building. It differs from a factory-built fireplace in that it forms part of the structure.
When it comes to the masonry, builders can use marble stone, but only for exterior walls. Acceptable materials for the back and sidewalls of a fireplace include:
Cement
Firebrick
Hollow blocks
The overall structure may feature the following materials:
Granite
Sandstone
Slate
Limestone
If builders or contractors decide to include stone, they must be sure that it is free from all cracks or other defects.
Prefabricated Fireplaces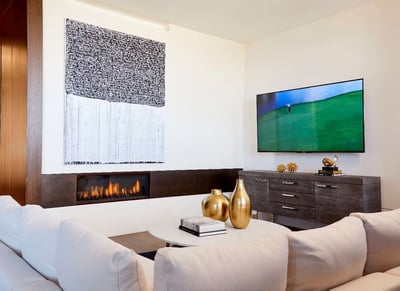 Fireplaces that are built separate from the structure and added later have their own requirements. Typically, they feature metal shells around the firebox. In California, builders who want to install factory-built fireplaces must use one of the following:
Direct Vent Fireplaces
B-Vent Fireplaces
Chimney Vented Fireplaces
The Hearth
Most traditional fireplaces include a hearth. A hearth juts out from the fireplace, covering the floor area in front of the firebox. Homeowners often request stone, brick, or concrete for their hearths. Other acceptable materials include slate, quarry tile, terrazzo, or marble.
The Lintel and Damper
The lintel supports the masonry. Located above the firebox and below the chimney, it's an essential structural component of traditional fireplaces. Typically made of steel, it nonetheless must be made of a noncombustible material.
Dampers prevent air from escaping when the fireplace is not in use. In many fireplaces, there is a throat damper, located above the firebox, and a top damper, located at the top of the chimney. In either case, it must be made of ferrous metal.
The Smoke Chamber
The smoke chamber funnels smoke and gas up through the chimney. It's located above the throat of the fireplace and designed to slope. Typically, it's made of masonry. Many fireplaces feature stone or concrete smoke chambers.
Additives and Mixtures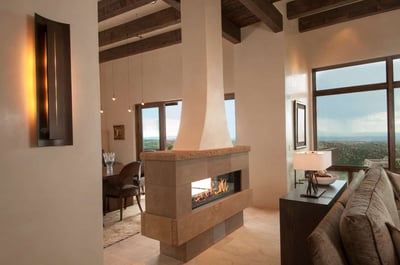 The California Building Code also limits the type of additives and mixtures that go into the mortar. Grout or mortar mixes must never include substances like chloride salts or liquid antifreeze. Instead, builders must use fine or coarse aggregate mixed with lime putty or hydrated lime.
Ortal Fireplaces
Ortal constructs each modern gas fireplace with an eye to the California Building Code. Our modern fireplaces use only the materials approved by state rules and regulations. Contact us to learn more about how our state-of-the-art fireplaces comply with current building codes.