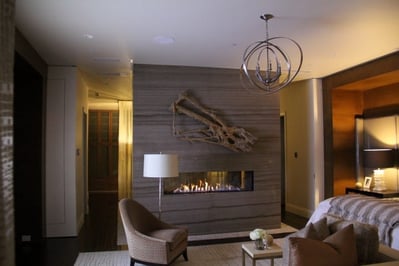 Frameless fireplaces may not be new—Ortal has been perfecting the look for decades—but they still represent the future of modern fireplace design. Of course, every designer has his or her own take on upcoming trends—that list of hot styles, colors, and materials that will make 2018 a year to remember—but with their infinite design possibilities and modern look, Ortal's frameless fireplaces can accommodate any vision.
Here are a few ways frameless fireplaces are set to redefine the coming year.
Metals Are All the Rage
Designers disagree on many things, but almost everyone has heralded the arrival of metals, from neutral metallic wallpaper to mixed metallic décor. Others swear by dark, moody palettes, and they've already begun to incorporate everything from luxurious blacks to heavy greens and stained woods.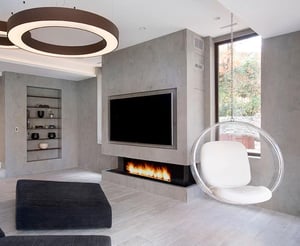 That represents a sharp turn away from the bare, lighter, whiter look of recent years. The dark, striated design of this fireplace surround, for example, has a nice textured look, making it the perfect focal point for a richly varied tableau that blends woods with metals and sparsely patterned fabrics.
Minimalism Still Reigns, but It's Becoming More Versatile
When you think of frameless fireplaces, you think first of minimalist design. Envisioned as a sleeker, less cluttered version of the traditional fireplace, the frameless design pairs perfectly with a bare-bones, no-nonsense aesthetic.
While many designers are moving away from a stark look this year, the streamlined fireplace has a timeless appeal that won't be going anywhere anytime soon. When you embrace cleaner architectural elements (like a frameless fireplace surrounded by polished cement or marble), you always have the option of adding busier décor elements, like colorful pillows, oddly shaped furniture, and sumptuous decor.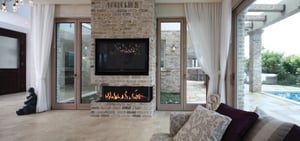 The Past Meets the Future in the Present
Frameless fireplaces may be synonymous with minimalism, but they're far from being a one-trick pony. Take this handsome fireplace, which combines a traditional brick surround with a modern, frameless design. It also breaks up the curtained windows, creating balance through symmetry and interest through contrast. Since 2018 will be all about mixing the old with the new, style-spanning fireplaces like this one will only become more popular.
Welcome to the Age of Eclecticism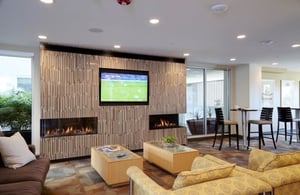 An increasing number of designers are extolling the virtues of eclecticism. They're mixing and matching colors, styles, and patterns like never before. From herringbone floors to gold chandeliers, from patterned wallpapers to richly upholstered furniture, diversity has become the name of the game.
True to the newfound ethos, this frameless fireplace setup combines a right-sided and left-sided model in an asymmetrical arrangement. Combine that with bright, upholstered furniture and a wall pattern that pops right out at you, and you have a contemporary designer's dream.
Natural Woods (Plus Everything Else)
Dark browns have made a comeback, but that's not the only reason designers are embracing natural wood elements. Durable, classic, and down-to-earth, wood is perfect for the coming year. With any number of woods, patterns, stains at your fingertips, it's also versatile enough to accommodate changing tastes.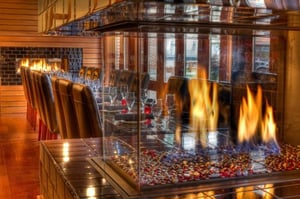 That being said, designers are no longer content with simple wood paired with a little white brick here and there. Instead, they're combining natural woods with other materials—metallic, bricks, leathers, etc. Take this dining room. Two frameless fireplaces surrounded by polished black brick separate the wood walls from the wood floors, while gold décor and black leather chairs take it up a notch. The result manages to be both eclectic and classic at the same time.
The Future Is Floating and Frameless
In 2018, designers are prepared to leave their minimalist comfort zones and embrace the world of rich colors and eclectic arrangements. Whether you go with the flow and stay up with the latest fashions, or buck current trends in favor of ageless beauty, Ortal's contemporary fireplaces can enhance your design. Versatile enough to match any trend, and timeless enough to survive any whim, the frameless fireplace is here to stay.
Browse through our gallery of modern fireplaces to get more design inspiration for 2018.