Homes.com set out to uncover what Americans want in a dream home by conducting a survey. They asked 2,000 people to envision their dream home. Across the board, fireplaces were a top priority for people of all ages.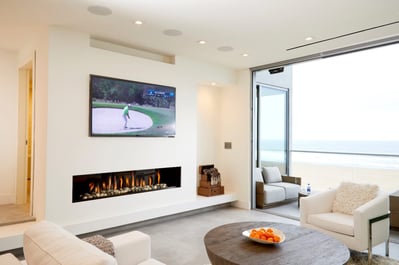 The responses ranged from predictable to somewhat surprising, and there were some significant differences between generations. Baby Boomers (born between 1946 and 1964) had a more modest vision of what constitutes a dream home, while Millennials (born between 1981 and 1996) let their imaginations soar.
Things Respondents Agreed On
Survey respondents wanted an average of four bedrooms and three bathrooms, an open kitchen with stainless steel appliances, and lots of wood and glass. A beach-style house close to the water with hardwood floors was the most popular.
Participants also agreed on some must-have features, including a fireplace, walk-in closet(s), lots of storage, and peace and quiet, with plenty of space between neighboring homes.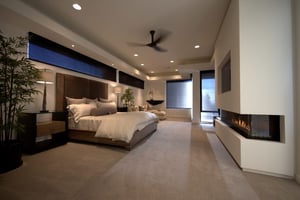 Generational Differences
Millennial survey respondents didn't hold back when mapping out their dream digs. Beyond the basics you'd expect—spacious bedrooms, bathrooms, kitchen, and garage—younger respondents wanted to go big (4,000-5,000 square feet, to be exact) with these features:

- Library
- Movie theater
- Man cave/she shed
- Children's playroom
- Wine cellar
- Hidden room
- Fireplace



Baby Boomers were content with a more modest 1,500 to 2,000 square feet and simpler amenities, like plenty of windows and storage space—and a fireplace, which neared the top of the Boomers' list as well.
Start Building Your Dream Home with a Luxury Fireplace
Whatever your vision for your dream home, if you're like most of the people who participated in the survey, a fireplace is an indispensable part of it.
And, whether your ideal abode is ultra-modern or traditional, Ortal's full line of contemporary fireplace styles can be incorporated into any home, regardless of architectural style or interior design.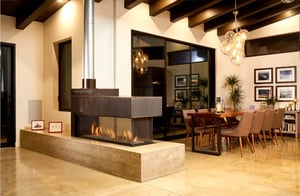 Ortal modern gas fireplaces are engineered with the most advanced technology in the industry. This means they can be placed in spaces that were once off limits—like odd-shaped corners, upstairs bedrooms, and dividing walls. Ortal fireplaces provide the wow factor you'd expect in a dream home—here are a few examples:
Indoor/Outdoor fireplaces: Move effortlessly between indoor and outdoor spaces without leaving the warm glow of the fire. It's possible with Ortal's line of see-through fireplaces – including the Indoor/Outdoor and Tunnel models. With more than a dozen sizes to choose from and several shapes, create exactly the look you want for your space.
Space Creator fireplaces: As the name implies, Ortal's Space Creator fireplaces help designers use space more efficiently. Even better, they transform ordinary dividing walls into something extraordinary.
Corner fireplaces: Wide, narrow, tall, or short, Ortal's Corner fireplaces are flexible enough to fit in even the tightest spaces. And, with Ortal's advanced technology, there are flexible venting options—our power vent system can circulate air up to 90 feet from the fireplace. Learn about all Ortal advantages.
There's no substitute for seeing the versatility of Ortal in pictures—we invite you to view our gallery for inspiration. Then browse our catalog to find the model that's right for your space.