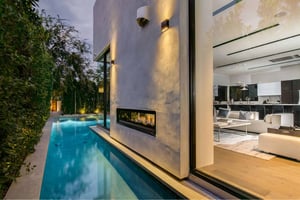 For the ultimate in luxury living, architects and designers turn to the indoor/outdoor fireplace, a modern masterpiece of fireplace design. This contemporary gas fireplace bridges the interior with the exterior to create a stunning, three-dimensional tableau.
\Of course, with Ortal's heat-producing fireplaces, you get not only architectural grandeur, but also warmth, comfort, and efficiency. Here are eight more reasons why the indoor-outdoor see through fireplace stands out as one of our most impressive achievements.
#1) It Boasts Awe-Inspiring Versatility
Why choose between an outdoor fire pit and an indoor fireplace? By enclosing a gas fireplace in a structural wall, you get two for one—a fireplace that keeps your living room warm while creating the perfect ambience in your patio, pavilion, or pool. Not only that, but you also get a window into the outside world.
#2) It Has Both Power and Efficiency
The indoor/outdoor fireplace is powerful enough to heat an indoor space and efficient enough to satisfy the greenest builder. Each unit features state-of-the-art direct vent technology that uses a balanced flue to draw in air and expel exhaust. Create a cozy atmosphere outside and inside, while keeping your energy costs within reasonable bounds.

#3) It Gives You Ultimate Flexibility
Like all of Ortal's contemporary fireplaces, the indoor/outdoor unit comes in your choice of sizes and designs. Select from a variety of fire media options (e.g., colored glass, ceramic pebbles, clay logs), facing materials, and interior lighting options. Customize your fireplace to bring your vision to life.
#4) It Comes with Innovative Cooling Technology
Break down design obstacles with our innovative heat protection solutions. Ortal's state-of-the-art Cool Wall Technology creates a safe temperature zone around the fireplace, so you can hang important design elements on the wall without worrying about heat damage. Place a TV directly above the fireplace, where people can easily watch their favorite shows without craning their necks. You can also safely place valuable artwork above the unit. With Ortal's indoor/outdoor fireplace, you never have to sacrifice design for safety.
#5) It's Surprisingly Easy to Install
The indoor/outdoor fireplace may be a technological marvel, but that doesn't mean you need a rocket scientist to install one. In fact, Ortal's wall-spanning fireplace is surprisingly easy to put in place.
#6) It Eliminates Condensation
The outside window is exposed to unpredictable conditions—rain, snow, frost, and bitter cold. Fortunately, Ortal has installed extra layers of glass on the outdoor window to keep condensation at bay, so your fire keeps burning and your view never gets clouded.
#7) It Shields Your Home from Drafts
A window to the outside world is great unless it exposes you to bone-chilling drafts. Fortunately, our indoor-outdoor see through fireplaces feature sturdy layers of glass as well as window sleeves that prevent cold air from entering your home.
Luxury Lifestyle
Why settle between an outdoor fireplace and an indoor fireplace when you can get both? Featuring a see-through design that bridges two worlds, the indoor/outdoor fireplace is our most creative model yet. Intrigued? Get in touch with Ortal to learn more about our innovative fireplace solutions.