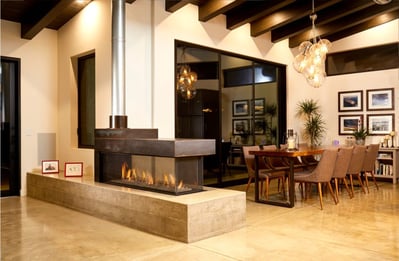 Canadian winters are famous for being frigid. Unless you head west to the B.C. coast, you're in for some bone-chilling temperatures. So, how do you keep the chill (and the boredom) at bay? How do you survive the winter with your toes and your sanity intact? It's simple. You light a fire (or, at the very least, you find one). Here's how to do it the right way.
Update Your Fireplace
If you're a local and you haven't already installed a modern gas fireplace in your home, you need to rethink your winter strategy. You wouldn't take a horse and buggy or a sled to the grocery store, so why would you face the northern chill with an outdated fireplace?
Indeed, fireplaces are still the best way to warm up on a cold day, and the state-of-the-art direct-vent varieties suffer from none of the drawbacks that afflicted older models. Their ability to burn cleanly and efficiently, while still producing enough heat to warm up a spacious room on a winter's night, make them a Canuck's dream.
Dine Out and Cozy Up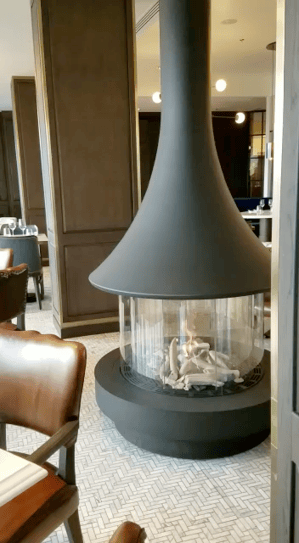 When the snow falls, it's natural to want to hunker down and stay inside, but you can't hibernate all winter. Instead, you can head out to one of the many local restaurants to savor everything from the country's signature dish, poutine, to a wide range of ethnic cuisine. Seaweed salad, anyone? Octopus? Caribou sausages? Yeah, Canada has that, too.
Wherever you go, just be sure to find a restaurant that treats its guests to the comfort of a roaring fire. When the roads freeze over and the windows frost up, you don't want to get left in the cold. With Ortal's modern fireplaces, you get so much more than warmth; you also get beauty, atmosphere, and a sense of sociability.
Hit the Resorts
Whether you're a local looking to escape the house, or a visitor seeking winter thrills, Canada's resorts offer plenty of comfort and excitement. Popular spots include British Columbia's Blackcomb/Whistler ski resort, as well as Mont Tremblant Village, a pint-sized habitat nestled underneath Quebec's Laurentian Mountains.
Once you've satisfied your appetite for scenic beauty and ski-filled adventure, you can head indoors and relax around a blazing fire. The good news is, more and more ski resorts around the world are getting smart and installing Ortal's modern gas fireplaces in their lobbies, restaurants, and even rooms. That means, no matter how cold the slopes get, you can always bask in the warmth of a live fire.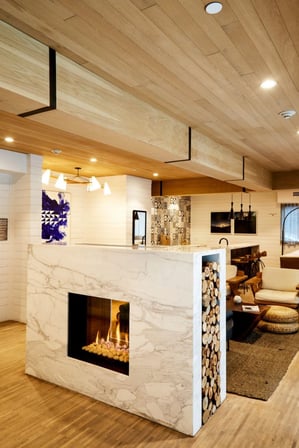 A 75x65 Tunnel Fireplace Warms a Gathering Space
Want to know why Ortal's modern gas fireplaces are a Canadian's best bet for winter coziness? Check out our many advantages, from efficient direct vent technology to fully customizable models and creative interiors.