Tunnel fireplaces, modular fireplaces, island fireplaces—modern fireplaces come in all shapes and sizes and bear all sorts of names. You can place them in columns. You can put them in corners. You can install them anywhere, from the dining room to the master suite bathroom. They can connect the parlor with the patio. They can be as long as you wish and as versatile as you need.
They can also sit snugly in the center of the living room, offering up a hearty dose of warmth and cheer as in days of old. While time has moved on and technology has evolved, nothing has replaced the charm of a traditional fireplace. Lest we forget about the classics, it's time to explore the age-old beauty of the front-facing fireplace.
Choosing the Perfect Fireplace Arrangement
The key to pulling off a traditional fireplace is making sure it fits into its environment. That means paying close attention to the surrounding elements. First on your interior design list should be the choice of adjoining materials. From traditional stone masonry to a minimalist take on slate or marble, the possibilities are endless.
Once you've selected the right architectural elements to go with your front facing fireplace, move on to the décor. Before settling on a particular material or a design scheme, though, ask yourself a simple question: What look are you going for?
The Modernist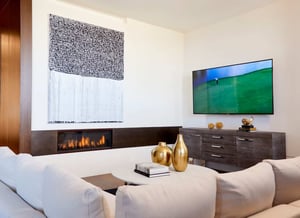 Fireplace design has come a long way since the days when homey hearths and cluttered mantles were obligatory. Nowadays, minimalism is as standard in luxury homes and high-end establishments as brick once was. Minimal designs are deceptive. They look simple, but they're harder to pull off, requiring an impressive attention to detail.
A long and sleek electric fireplace set flush with a wall creates a gorgeous yet simple tableau for a living room or lobby. Top it off with original artwork or a flat screen TV. Enclose your fireplace in a long, horizontal slab of metal, marble, or stone to create contrast and add geometric interest to an otherwise bare wall.
The Traditionalist
Contemporary fireplaces don't have to come with a modernist design. For the less minimally minded, there's nothing wrong with incorporating traditional accouterments such as a mantle and a hearth. Marble, stone, and brick are the conventional choices, and for good reason. Elegant and timeless, they also impart a sense of solidity.
Those looking for luxurious refinement might gravitate toward marble, while those who prefer a cottage-like coziness might tend toward brick. Stone, sans mantle, can be both sleek and rustic at the same time. Wood mantles featuring ornately carved designs can add a sense of old-world beauty to a contemporary home.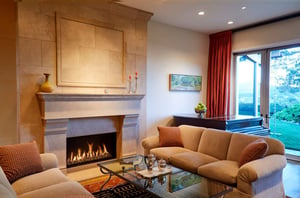 There are, of course, other options. Black slate for a cool, modern ambiance. Chocolate wood for an air of distinguished luxury. Limestone for a classic look with a twist. There are plenty of materials and arrangements that straddle the divide between modern and traditional. The key is in the execution.
Follow Your Sense of Style
Between modernist and traditionalist lies a whole world of style. If you want to be inventive, combine traditional materials with non-traditional setups or vice versa (think a touch of stone within a minimalist design or a clean, simple mantle in a busy room). Your choice of décor also goes a long way toward defining the ambiance. Different styles of mirrors and artwork can dramatically change the look and feel of a room.
Begin your design journey with a sample of Ortal Heat's front facing fireplaces. Take a look at all of our available models and start imagining the possibilities.