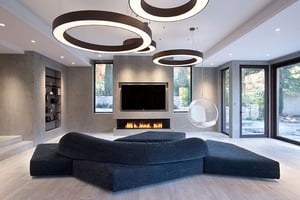 Deciding to add a fireplace to your residential or commercial space in Washington is easy. Complying with government regulations can prove more challenging.
Before construction can even begin, you have to wade through countless state ordinances and local building codes. Designed to keep pollution at bay and residents safe, the regulations outline what you can and cannot do when building and installing a fireplace.
How do you know if your fireplace meets all guidelines? One thing to consider is your brand choice of gas fireplace. With an Ortal fireplace, you never have to worry about compliance or pollution. Our direct vent gas fireplaces meet the most stringent codes and regulations across the nation. Gas fireplaces are also greener than the alternatives That means less headache, less wasted energy, and more enjoyment.
Here are a few notable regulations in Washington and how Ortal can help you comply with them.
Factory Built Fireplaces
Unlike masonry fireplaces, factory-built fireplaces are constructed elsewhere and then installed in a home or building at a later date. A poorly manufactured or incorrectly installed unit poses risks to the homeowner and to the larger community.
That's why local authorities demand that manufacturers build their fireplaces with strict safety requirements in mind. They also require that contractors or homeowners comply with the manufacturer's instructions when installing factory-built fireplaces.
Ortal's modern direct vent gas fireplaces exceed all benchmarks for quality and safety. Built to the most exacting standards, they can meet any guidelines, anywhere in the country, including Washington.
Hearths
Local codes demand that traditional, front-facing fireplaces come with a hearth. Fireplace hearths create a clearance zone that protects the floor from flames and sparks.
Seattle regulations also mandate exact measurements for the construction of hearths.
Seattle Building Code Regulations for Fireplace Hearths
At least 16 inches in front of a normal fireplace opening
At least 8 inches to each side of a normal fireplace opening
At least 20 inches in front of a large opening
At least 12 inches to each side of a large opening
Ortal's advanced heat barrier technology, on the other hand, eliminates the need for such a clearance zone.
Homeowners can still install a decorative hearth to give their fireplace an old-fashioned touch, yet they are not obliged to install a big space consuming hearth due to Ortal's limitless design possibilities. This means less work to bring the fireplace up to compliance, and less money spent on surrounding materials.
Clearance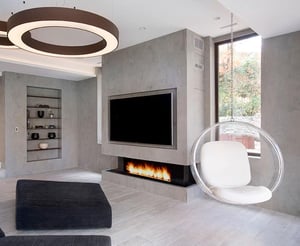 Seattle building codes require a clearance zone around the fireplace for the same reason—to protect homes from the risk of fire. Such buffer zones also protect surrounding walls, electronics, and artwork.
Masonry fireplaces require at least 2 inches (51 mm) of space between the front and sides of a fireplace and any combustible material, and at least 4 inches (102 mm) between the back of the fireplace and any combustible material.
There is an exception to the rule (Exception 1 of Section R1001.11). Fireplaces that are manufactured specifically to allow contact with combustible materials are exempt from the regulation.
Ortal's Cool Wall Technology, for example, needs no such breathing room. Designed to keep the surrounding walls cool, an Ortal fireplace can be safely placed next to combustible materials without risking fire or damage.
In 2015, the ANSI enacted a requirement that all vented gas fireplaces must have safety barrier screens. This code ensures that direct contact with the scaling fireplace glass front is safe to the touch. Ortal units come standard with an almost invisible safety barrier screen or double glass heat barrier. All Ortal fireplaces comply with this standard keeping your family and clientele safe.
Give Yourself Peace of Mind
When you choose Ortal, you're not only choosing ultimate design capabilities and breathtakingly beautiful models; you're also choosing safety and sustainability. Ortal's models don't merely comply with regulations in Washington, they go above and beyond the call of duty. In the long run, that means less money spent on compliance, energy, and safety protections.
Now it's your turn to go above the call of duty. Join the growing green building movement. Lower your energy consumption and compliance costs with Ortal's modern fireplaces. Build beautifully and feel good while doing it!