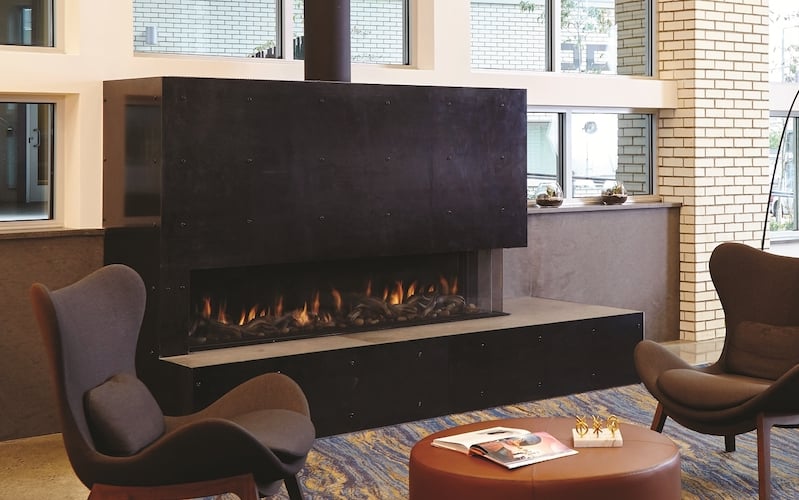 Fireplace safety is an issue that designers, builders, and homeowners should always prioritize, which is why it's a good idea to highlight some of the features that help keep your clients safe when helping them decide what type of fireplace is right for them. In addition to direct venting to maintain good air quality and a unique burner design for maximum efficiency, Ortal fireplaces also offer the latest advances in safety with two heat barrier options: micro-mesh and double glass.
Both types of heat barriers allow designers to maintain a sleek, modern aesthetic without compromising the design vision. For homeowners who don't want a clunky mesh screen or folding glass doors, an Ortal modern gas fireplace is a safe, attractive, flexible solution.
Achieve Form and Function
All new glass-enclosed fireplaces must meet the American National Standards Institute (ANSI) regulation that requires the outermost glass temperature to be 172 degrees Fahrenheit or less. Many manufacturers don't have an issue with this requirement because their gas fireplaces are purely ornamental, producing minimal heat that does not cause the glass temperature to go high enough to require a safety barrier. Although this might be desirable to some clients, many want the look of a modern fireplace without sacrificing the benefit of heat. Ortal fireplaces use innovative technology to provide both ambient heat and a sleek, modern aesthetic.
Double Glass Heat Barrier
The double glass heat barrier system has two layers of glass—ceramic on the inside and tempered glass on the outside. A series of small, silent fans circulate cool air between the two panes to keep the outer pane cooler than the required temperature. With Ortal's double glass heat barrier solution, your clients will enjoy convenient, ambient heat without the risk of an open flame.
Although it's not designed to be touched for long periods of time, if somebody brushes against the fireplace glass, the risk of injury is significantly lower than with an open flame or a material that becomes hotter than 172 degrees. If broken, the exterior tempered glass does not have sharp edges, making it safe to pick up if an accident does happen.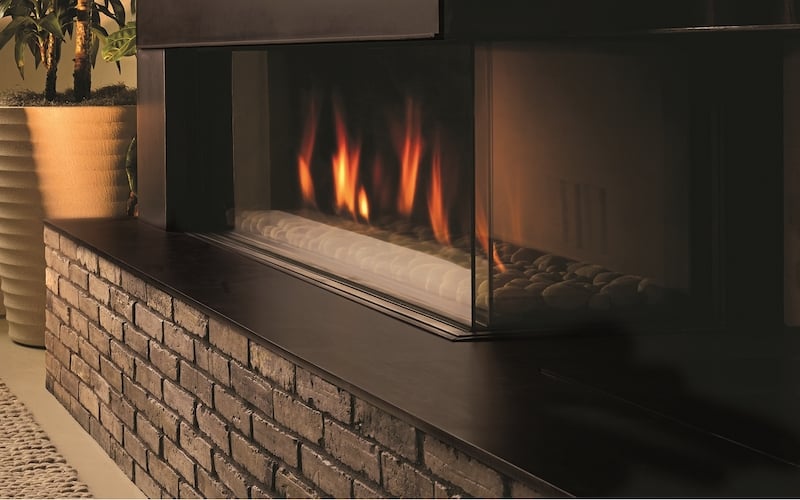 Micro-Mesh Screen Heat Barrier
A double glass heat barrier is an option for most Ortal fireplaces, including our corner and three-sided series. However, with the stand-alone series, a double glass heat barrier is not possible. This is why we designed and patented a micro-mesh screen that maintains a frameless look while keeping the outer screen at a safe temperature. Glass brackets and hidden attachment points keep the screen taut for a seamless, frameless, elegant look. The micro-mesh screen is virtually invisible, so the visual aesthetics of both the flame and the frame are not affected.
Proper Installation Is Essential
Regardless of the type of heat barrier being used, proper installation is critical for preventing fire hazards. Always follow the manufacturer's design specifications and ensure that the unit is installed by an authorized professional. Maintaining the recommended clearances is also necessary for protecting home furnishings and reducing risk. Fortunately, with an Ortal fireplace, the clearance zones are much smaller than with a traditional fireplace, which means your clients don't have to give up valuable floor space to protect their homes.
Ortal: The Architect's Resource
It's every designer's responsibility to know the latest codes and best practices for fireplace design and installation. Understanding the benefits of a modern gas fireplace that delivers heat while maintaining a safe temperature on the heat barrier and surrounding walls is key to helping your clients decide which fireplace solution is best for them. Ortal offers a range of resources to help you do this, including manuals, specifications, lunch and learns, and more. If you're ready to learn more about the details of specifying Ortal fireplaces for your projects, check out our Project Planning Checklist.