Whether to mount a TV over a fireplace continues to be a hotly debated issue by designers.
Some have raised concerns about heat damage to sensitive electrical components as reasons to avoid installing a flat-screen television above the hearth. However, with the proper technology and equipment, Cool Wall Technology can provide a solution.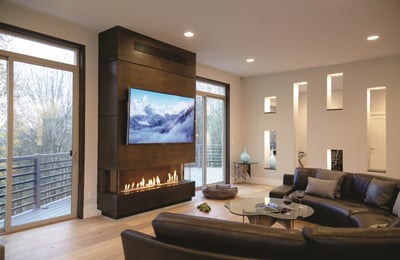 At Ortal we believe designers and homeowners should work together to find the solution that best works for their space and needs.
We do, however, share the valid concern about heat issues when mounting a TV or artwork above a fireplace. That's why we've designed our contemporary fireplaces with the most innovative technology available— to enhance your design possibilities and ensure the walls surrounding your fireplace, including the one directly above it, remain cool.
How do we do it? Ortal offers Cool Wall Technology, which keeps the wall above the fireplace significantly cooler than traditional masonry hearths and other competitors.
Ortal's Cool Wall Technology vs. the Average Fireplace
Ortal's Cool Wall Technology works by utilizing a heat release/air system. This system allows the convective heat from the fireplace to travel behind the face wall and escape out into the room, which helps keep temperatures lower inside the wall.
This convective heat release system keeps the air inside the fireplace chase constantly circulating, never allowing the heat to build behind the wall. As a result, the temperature of the wall above the fireplace is always cool—keeping your TV, artwork, and finish materials safe. Learn more on our Cool Wall Technology specs page.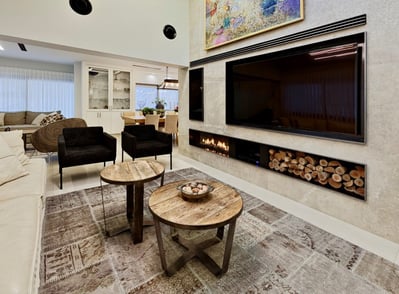 Without this technology, you can expect wall temperatures between 280 and 380 degrees Fahrenheit from 0 to 6 inches above the firebox; 6 to 12 inches above the fireplace you're still looking at 240 to 320 degrees, and even a foot above the firebox you're likely to gauge 180 to 300 degrees with the average gas model.
These temperatures are not conducive to mounting a TV (or treasured artwork) above the fireplace—it simply poses too great a risk of damage.
The excessive heat also limits which materials designers can use above the hearth. High temperatures can distort a wall's surface, peel or discolor paint, crack marble, cause wood paneling to warp, bend or split, and melt tile adhesives.
Compare this to Ortal's Cool Wall Technology, which keeps the wall above the fireplace at the following temperatures: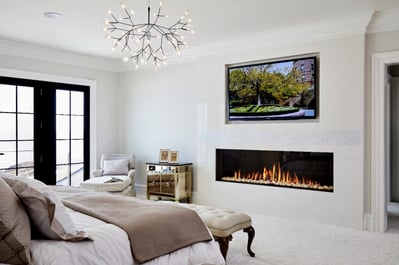 0-6 inches above firebox: 100 degrees F – 120 degrees F
6-12 inches above firebox: 90 degrees F – 100 degrees F

12 inches above firebox: 80 degrees F – 90 degrees F
Cool Wall Technology. No Limitations. No Design Barriers.
With Ortal you get the best of both worlds—the warmth and beauty of a modern fireplace, and an entertainment space for the whole family.
Cool Wall Technology is just one of several innovative features that sets Ortal modern gas fireplaces apart in the industry. Explore our gallery and catalog to learn more about the advantages of Ortal's modern fireplaces.