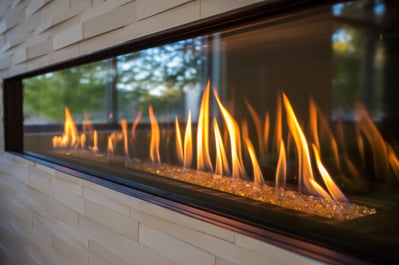 The fall season is upon us. The leaves are changing. There's a chill in the air. It's the perfect time to replace the inoperable fireplace that's taking up precious wall space, or the outdated unit that long ago lost its luster.
Your Fireplace: Reimagined
Whether you're converting a wood-burning hearth to a gas-burning direct-vent fireplace for fuel efficiency purposes or replacing an old gas model that's past its prime, you'll need to solicit the help of a qualified installer.
You may also choose to work with a designer on the fireplace's exterior design. Your design options are practically unlimited with Ortal's Cool Wall Technology, which keeps the walls above and around the fireplace significantly cooler than competitor models.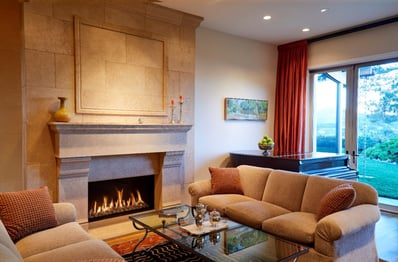 This means you can use finishing materials above and around the fireplace that wouldn't otherwise be possible. Mounting artwork or electronics above the fireplace also comes into play with Ortal's innovative technology.
Here are a few fireplace design ideas to help inspire your fireplace renovation.
Front-Facing
The beauty of Ortal is in its simple, frameless design, which can be incorporated into a broad range of design styles, from ultra-modern to traditional.
For the project above, the designer chose a warm, earthy stone mantle in a traditional style. The matching wall façade emerges seamlessly from the mantle, and the stone artwork silhouette adds visual interest and serves as a conversation starter.
Sleek Space Creator
Ortal's versatile line of Space Creator fireplaces is a designer's dream. They can be used to separate living spaces in a variety of ways, to create precisely the look you want.
When placed in the center of a large room (first image above) the Space Creator becomes a focal point between two or more spaces.
Or, the Space Creator can be used more subtly to separate two rooms (second image above). Regardless of how Ortal's Space Creator fireplace is incorporated, the sleek, frameless design never interrupts flow.
Versatile Three-Sided
Ortal's three-sided fireplaces are among the most versatile models in our collection. Available in more than a dozen standard sizes, our three-sided units can be placed in small or odd-shaped spaces, or used as a central theme for the space.
In this bedroom sanctuary (shown above) Ortal's Three-Sided Clear 170 model stretches along an entire wall, becoming a primary feature of the room. Note the flat screen television mounted above the fireplace—with Ortal's Cool Wall Technology there are no worries about heat damaging the TV's sensitive electrical components.
Ortal: Cutting-Edge Technology Meets Modern Design
Ortal's modern gas fireplaces are engineered to operate at the click of a button and feature the most advanced technology in the industry. Read about Ortal's advantages to find out what makes our direct-vent fireplaces so revolutionary.
Ready for your new fireplace installation? Explore our gallery and catalog to learn more about Ortal's collection, then call us for more information. Ortal proudly offers first-class start-to-finish project support.