Whether you have designed an open floor plan that could use a little structure or your client simply wants a statement piece in their home, a Space Creator Fireplace is an excellent solution. Rather than sitting flush against a wall, Space Creators extend perpendicularly from the wall or stand alone in the center of a room, creating separation and two distinct spaces.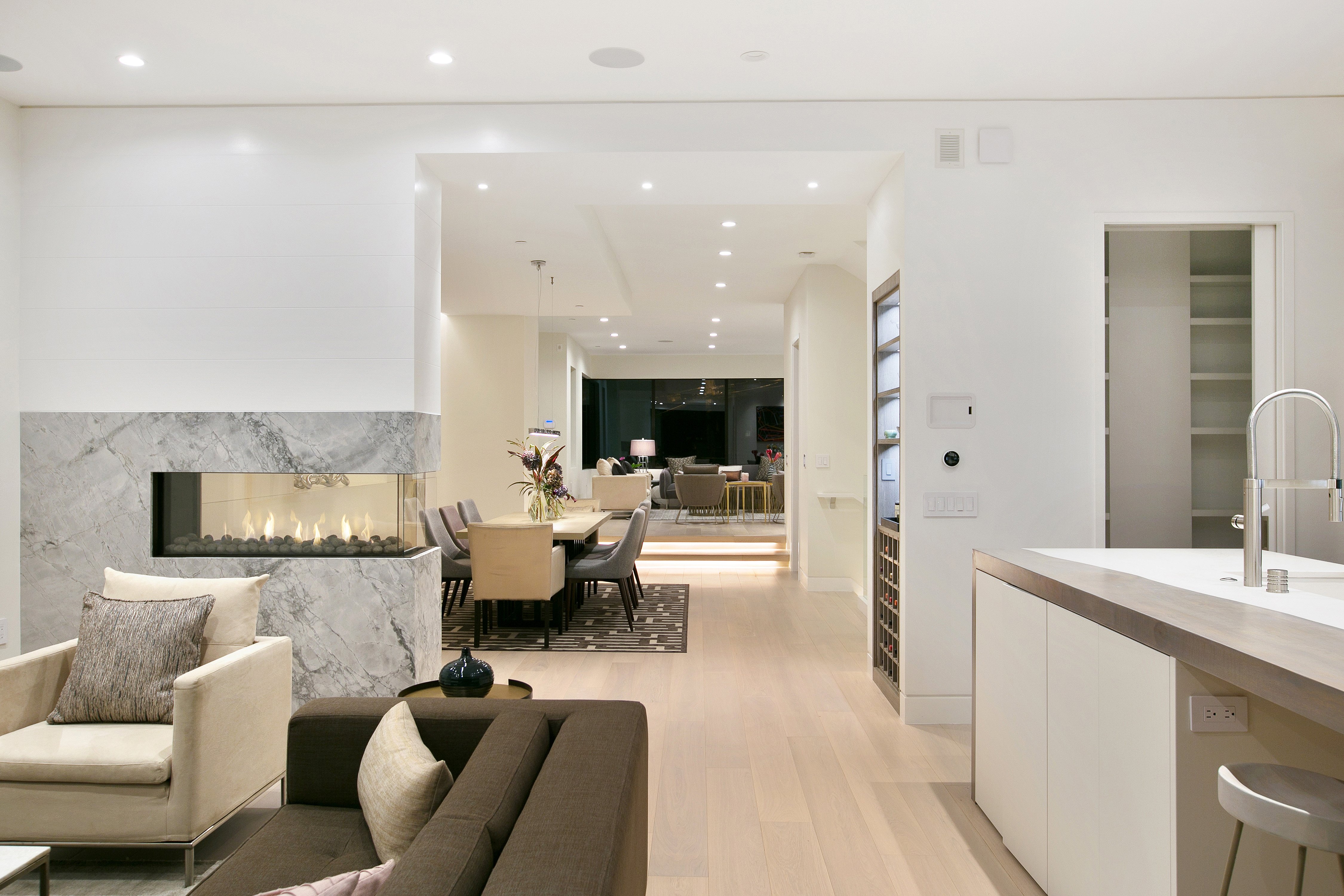 Nothing says modern luxury like a fireplace in the center of a room, and chances are that most clients will swoon over the idea. However, because they are not quite like a traditional fireplace, many customers will want to know more about Space Creators if you specify one, so be prepared to answer these frequently asked questions when including these unique fireplaces in your designs.
Does It Get Hot?
The number one question most customers have about any fireplace is whether or not it is safe, especially if they have small children. Although a Space Creator produces heat, it stays cool to the touch. Cool Wall Technology keeps the walls at a safe temperature and double-glass heat barriers keep the outermost glass safe to touch. Customers don't have to worry about accidentally touching the fireplace surround or the heat barrier when walking past it. However, a Space Creator is not just an ornamental fireplace, as it still produces ambient heat to keep spaces warm and cozy.
Where Can I Put It?
Space Creator Fireplaces can be installed virtually anywhere in a room thanks to our modern Power Vent System. You're no longer limited to placing fireplaces flush against a wall because the pipe run can be more than twice as long, which gives you the freedom to put modern fireplaces in spaces where traditional ones can't go. It also allows your clients to have custom spaces that are truly unique.
Can I Add Any Other Decorative Features?
Many clients want to know how much flexibility they will have with the space around a fireplace. A Space Creator allows them to hang artwork or a TV above the fireplace, so they can make it truly their own. It can also be designed with an extended base that can be used for seating or decorative objects. Some people have even integrated a Space Creator Fireplace into steps that transition between rooms for a stunning effect. The design possibilities are limited only by your creativity, and your clients will still have the freedom to use their spaces in the way they envision.
How Big Is It?
The Space Creator comes in four different sizes, from a column shape to a long divider. Sizes available include lengths of 75, 120, 150, and 200 centimeters. You have plenty of flexibility in the overall design based on your clients' tastes and your vision. It can be sleek and streamlined or have a heavy base that draws the eye. No matter what aesthetic you're going for, a Space Creator can be designed to fit into it.
What Materials Can I Use?
Unlike a traditional fireplace that's limited to brick or stone, you can have a range of materials surrounding a Space Creator Fireplace. Cool Wall Technology allows you to surround the fireplace with tile, metal, stone, paint, and even wallpaper. This is great news for clients, who know that no matter how their tastes change over time, they can update the area surrounding their fireplace with a range of materials. Although they can't do much with stone or brick, a fresh coat of paint, some striking tile, or the latest wallpaper trend is always possible with a modern Space Creator.
What Will the Flame Look Like?
Like with any other Ortal fireplace, you can choose from a range of interior media. From realistic embers to modern glass and everything in between, clients have the freedom to decide exactly how they want their fireplace to look. They can also update the look over time as trends change and new styles become available. Gas fireplaces also have the benefits of adjustable flames, remote controls, easy maintenance, and mess-free heat and ambience.
Incorporating Space Creators into Your Designs
A Space Creator Fireplace does much more than create distinct spaces. It also serves as a unique design feature that will tastefully stand out in any home. Designers get the benefit of true flexibility, and clients get the benefit of a custom luxury feature that they won't find in any other home. If you'd like to learn more about Ortal's modern fireplaces and how they can help you create spaces that will truly impress your clients, schedule a meeting today.