Nestled in the Rocky Mountains about nine miles west of Aspen, Snowmass Village is the second-largest ski area in Colorado and frequently ranked as one of the best in North America. Perched atop the resort's historic Guggenhill ski run is the Guggenhill Residence, a 5,000 square foot contemporary mountain-style home with three Ortal fireplaces that all reflect modern styling while embracing the mountain locale.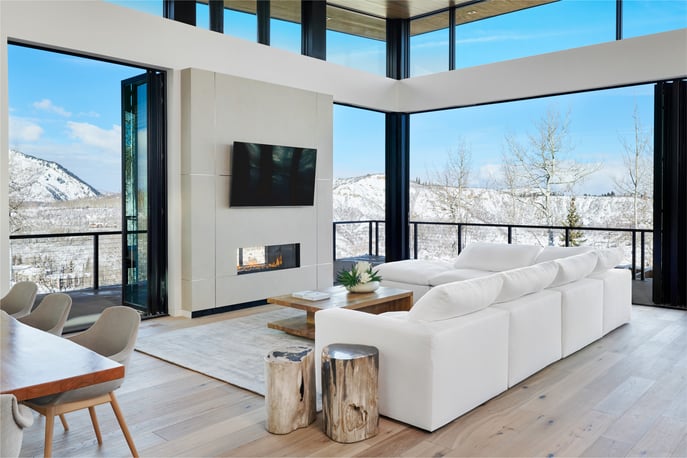 Photography by Dallas and Harris
This luxury home was designed by KA Designworks, a full-service boutique architectural firm in Colorado that specializes in thoughtful, beautiful residential design and remodeling as well as hospitality design. With a creative philosophy heavily rooted in practicality and efficiency, it was easy for KA DesignWorks to select Ortal to furnish multiple fireplaces in the Guggenhill Residence.
Built in 2018, the elegant, expansive home features five bedrooms rooms, five full baths, two half-baths and an office. Located on the entry level are the office and master suite, which features a private deck and a front-facing Ortal fireplace. On the same level are the kitchen, dining and living areas, along with an awe-inspiring great room with a minimal profile and an indoor/outdoor Ortal fireplace. Sculpted open tread stairs lead down to the lower level walkout which includes a lavish family and game room with a front-facing Ortal fireplace.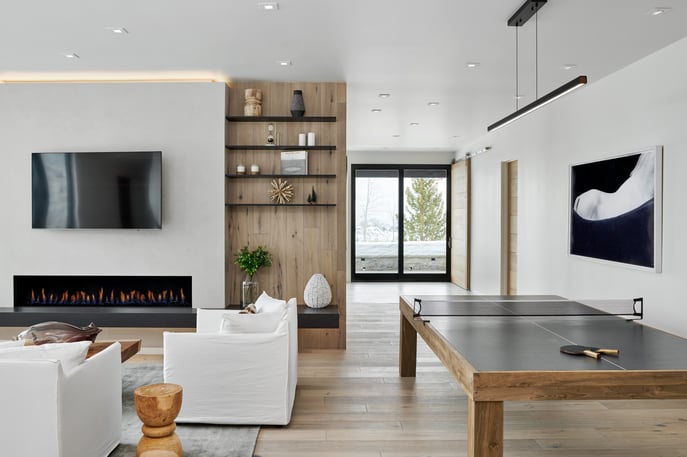 Photography by Dallas and Harris
Carrie Tirrell, project manager and interior designer at KA DesignWorks in conjunction with the client, opted for Venetian plaster as the surround for all three fireplace walls. Ortal was their premier choice due to the brand's variety of fireplace sizes, contemporary designs and minimal front frames.
"We wanted a fireplace that had a clean face so as not to detract from the overall look of the fireplace design while also using the contemporary linear shape," she explains.
The decision to use three fireplaces was easy, as the magnificent nature of the property called for a "wow factor" in both living spaces as well as the master bedroom. With the residence located in Colorado, KA DesignWorks believed it was a good thing to have multiple fireplaces to keep the home's inhabitants warm during the winter months.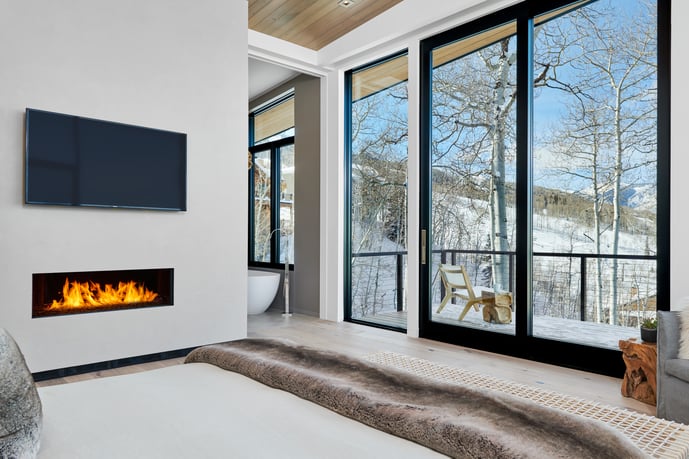 Photography by Dallas and Harris
When asked about any architectural issues while installing the trio of fireplaces, Tirrell said there were none. "Ortal has given us ideas for how to disguise the intake and output vents previously, so we did not have any architectural challenges on this project."
She continues, "Ortal has always been a pleasure to work with, especially in regards to the ease of online information such as specifications and literature, as well as the ease of accessing an Ortal representative for deeper questions about specific products."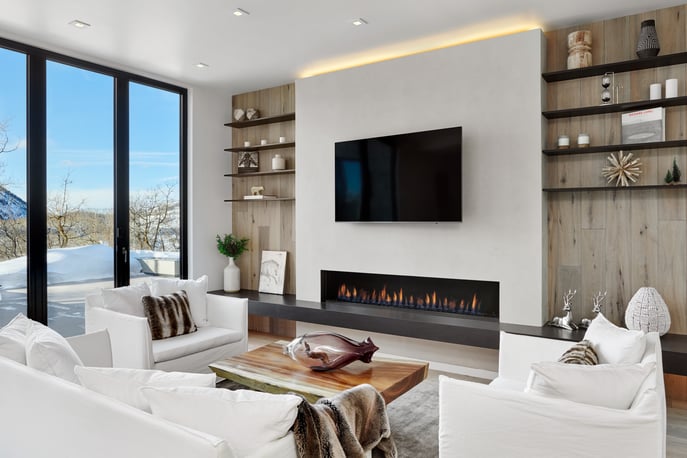 Photography by Dallas and Harris