From modern gas fireplaces to vessel sinks, there are plenty of creative ideas to inspire your quest to find the perfect look for your bathroom.
It may not be the first room you think of decorating. It's probably the smallest room you'll renovate. That doesn't make the bathroom any less important. It's where you prepare for your day and unwind when it's over. Balancing comfort with utility, ambience with function—a tall order to fill. Here are three great looks that can help you on your search to perfection for your luxury home interior.
Look #1: The Modern Spa Look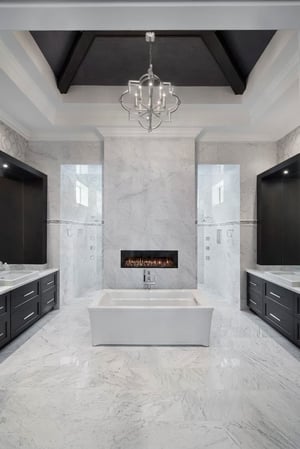 Enter a spa-like environment every time you walk through your bathroom door. Monochrome, particularly all-white, will give you that clean look. Be sure to include plenty of lighting. Throw in a bright flower or vibrant accent rug for a dash of color. If you want a slightly different feel, all black also does the trick. Replace traditional bathroom cabinets with furniture-like black wood for a classy upgrade.
A walk-in shower creates a sense of spa-like modernity while providing ease of access. If you really want to boost both the comfort and chic level, install a modern fireplace. Fireplace décor not only adds a modern sense of beauty, it also generates warmth in the deep dark days of winter. If you want to turn your bathroom into a spa-like haven of relaxation and elegance, then a ventless gas fireplace is the perfect addition, a unique way to boost both the comfort and chic level.
Look #2: The Cottage Look
For some, home means a charming cottage. If so, the bathroom should be blessed with the same picturesque allure. A neutral color scheme tends to work best in country-style homes, particularly if they're paired with natural materials.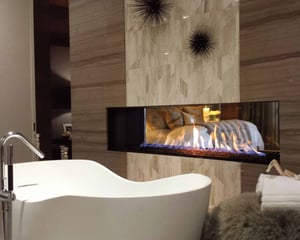 Throw in wood touches (distressed wood) for a more rustic look. Wood shelves, benches, window treatments, floors, even wood dressers or tables will go well with that freestanding tub and vanity. Round vanity mirrors are another great idea. Finally, period-style taps and fixtures create a sense of vintage elegance—perfect for a cottage-style home.
Look #3: The Old European Look
There are many ways to create a sense of old-world elegance. If you prefer a European take on tradition, then a free-standing tub with ornate feet and fixtures is the perfect way to express time-honored luxury. Rich colors (think golds and peaches) add warmth. Don't be afraid to cover the walls with warm tiles. Finally, candles set the mood. Make them a permanent part of the décor with a floor candle holder crafted out of traditional materials.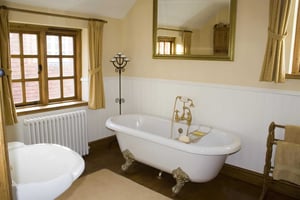 If you want an equally traditional look but are looking for a lighter feel, materials like marble and chrome are ideal. Order them in a cool white color and your bathroom will take on a nice airy ambience. If you want classic beauty combined with modern convenience, then a walk-in shower with glass door will create the ideal balance between two worlds.
Want to install a beautiful modern fireplace in your perfect bathroom? Contact Ortal today at 818.238.7000.