The kitchen is the most used room in the average home (a quick Google search confirms this). It's no surprise, really. Food brings us together, and for the culinarily-gifted among us, cooking is often much more than a necessary chore—it's an enjoyable, creative outlet, and even a stress reliever. Make this important space all your own with a look that captures your style and personality. We present three unique design ideas below.
Look #1: Retro Diner
Take a trip back to 1950s America every time you walk into your kitchen with a diner-inspired theme. This friendly, inviting look is a great choice for families with kids (or die-hard 50s enthusiasts).
How to get the look? To start, checkered black-and-white tile (or linoleum) flooring is a must. Choose vintage-inspired appliances like this cherry red fridge by SMEG that imparts a classic 50s look without sacrificing on modern features and technology. Depending on how much space you have, opt for a custom-built counter or island with shiny chrome stools (with red vinyl seats) or a booth with red vinyl bench seats and chrome table.
Retro diner art and accessories will help complete the look—the possibilities are endless and can include things like a full-size or tabletop radio jukebox, framed movie posters, vintage road signs, travel memorabilia, vinyl records, neon signs, Coca-Cola-themed accessories, vintage canisters, glass cookie jars and straw dispensers, vintage clock, retro salt and pepper shakers, retro hanging light fixtures, and Melamine kitchenware.
You can take the look as far as you want—incorporate just a few retro appliances and accessories that hint of a bygone era, or go full-on retro, recreating a classic diner down to the last detail.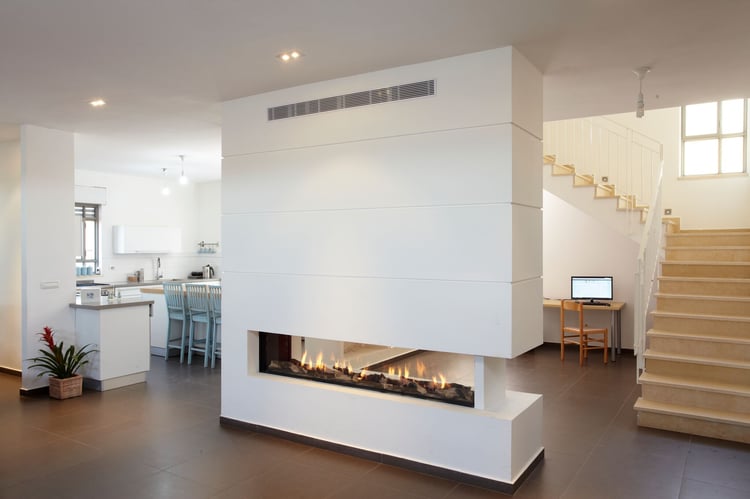 Look #2: Fireplace in Kitchen
Advances in technology mean that gas fireplaces can be added in virtually any space today. And why should they be limited to living/family rooms? Create a chic, modern look with a tunnel-style fireplace between the kitchen and dining room, or incorporate a gas fireplace into a dividing wall between the dining area and the living room. Ortal offers a huge variety of fireplace options, including front-facing, corner, three-side, and standalone models in a variety of dimensions to suit every space. View our modern direct-vent fireplace styles and our gallery for design ideas.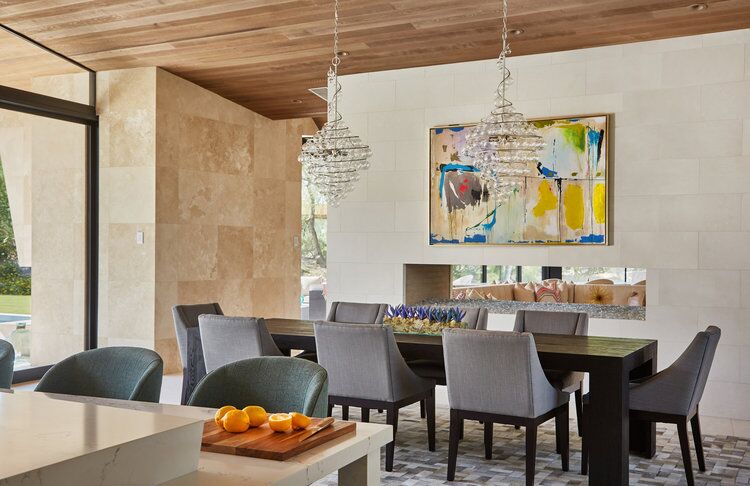 Look #3: Minimalist Kitchen with Wallpaper Accents
Materials like stainless steel and concrete create a clean, modern look, but without softening accents the space can feel cold and uninviting. Adding wallpaper accents like a colorful striped design or a pattern of small blue-and-white checkers can help add warmth without overwhelming the space and preserving the minimalist look. Forget your grandmother's gaudy floral wallpaper—the options today are endless and include patterns of every variety for the modern-day kitchen.
Create Your Space—Your Way—with Ortal
Ortal's direct-vent systems feature cool wall technology and heat barrier solutions that restrict the amount of heat that escapes the firebox, keeping the walls above and around the fireplace opening cooler—this creates endless design possibilities for professional and novice designers alike.
With more than 80 different style and size options, our gas hearths are extremely versatile and can be installed in virtually any space, including bedrooms, bathrooms, kitchens, and finished basements. Learn more about the unique advantages of Ortal fireplaces.