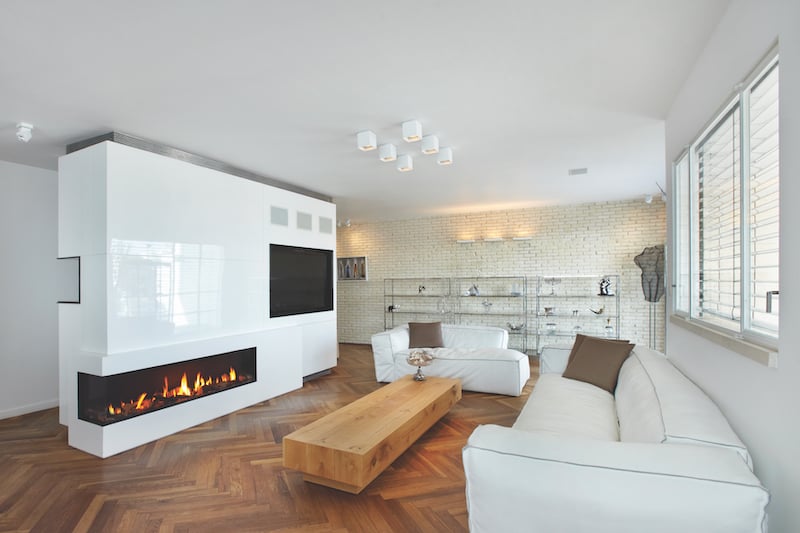 The style of a fireplace can transform the aesthetic of a room, which is one reason many designers recommend upgrading to a luxury brand. A truly frameless look and high-end interior media with thoughtful design can make a world of difference, which is why it's smart to include a luxury fireplace in the project budget from the beginning. Performance is another great reason to upgrade, especially for clients who want a functional unit that produces heat.
Focus on the Benefits of Upgrading
For clients who are already planning to install a fireplace, convincing them to upgrade isn't necessarily as difficult as you might expect, and it offers benefits to both you and them.
A lifetime of luxury
Many people select a fireplace only once in their life. A major renovation or new home construction project is an opportunity to create the space they have always dreamed about. Upgrading to a luxury fireplace is worth the investment when clients consider that it will be in their home forever. Frame the conversation around them getting exactly what they want, which is why they hired a designer in the first place.
Stylish safety
All fireplaces must meet a minimum safety standard, but they don't all achieve it in the same ways. Some use clunky screens to meet the heat barrier requirements, whereas others have double glass barriers with large brackets that interfere with the aesthetics of the fireplace. Ortal fireplaces use either a low-profile micro-mesh screen or a seamless double glass heat barrier that has hidden brackets to maintain an elegant, frameless look.
Interior aesthetics
Luxury fireplace manufacturers invest more in the little details such as interior lighting and the materials used for interior media. Whether your clients want a realistic look with glowing embers or sleek, modern glass stones, the fireplace will look better if they upgrade. Help your clients understand that the fireplace should look beautiful in the room even when it isn't operating, and that a luxury brand will ensure that it always looks amazing.
Design flexibility
Luxury fireplaces allow you to create the look and feel you want in virtually any space. With features like Cool Wall Technology and direct venting, you can put a fireplace in locations that are not possible with traditional units, including the center of the room, or use it as a space divider. Smaller clearance areas also give clients more flexibility with their furnishings and interior layouts.
Form and function
Many gas fireplaces are purely ornamental. They look nice, but they don't produce any heat because it is all vented outside. A luxury fireplace from Ortal gives clients the best of both worlds. This is achieved through technological innovations that not all manufacturers utilize, such as direct vent technology.
Don't Focus on Price
Although the term "luxury fireplace" might suggest a higher price tag, this doesn't have to be the focus of the conversation. When making recommendations, talk about the benefits listed above and the aesthetics you envision for your client's home. If price does come up, be prepared to talk about how the total installation cost of a luxury gas fireplace is often actually lower than that of a traditional wood-burning system. If they are already planning on having a gas unit and are motivated by price, focus on the efficiency that a luxury fireplace provides through state-of-the-art burner technology. Remind them that because an Ortal fireplace also produces heat, it can potentially reduce their utility costs and eventually get them a return on their investment in the upgrade.
Specify Only the Best
When you design a space, you want only the best for your clients, which is why upgrading to a luxury fireplace is a smart recommendation. You get the benefits of unique spaces in your portfolio, and they enjoy a lifetime of benefits with their new fireplace. Learn more about how to choose the right systems for your clients in our Buyer's Guide: Selecting a Luxury Fireplace for Your Next Project.