At Ortal, we know your priority is providing your clients with value at every turn—whether you're an interior designer, an architect, or a builder.
Clients today expect energy-efficient appliances with advanced technology and safety features. Ortal has developed some of the most skillfully-designed, energy-efficient luxury fireplaces in the industry—and that translates to real, sustained savings over time.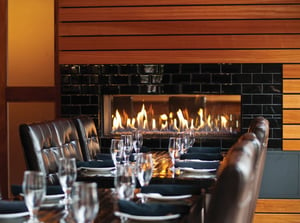 Read on to learn more about what makes Ortal's line of modern direct-vent gas fireplaces so revolutionary.
Masterfully-Engineered for Heat Efficiency
Ortal has spent decades refining the system that makes our fireplaces some of the most efficient on the market today.
Our direct-vent systems feature an innovative co-axial system. The exhaust pipe is nested inside the fresh air intake pipe for a sealed configuration that draws outside air in and expels the exhaust outside the building.
The fireplace is sealed from the room using a glass front, and it prevents combustion air from entering the room, eliminating the air quality issues that traditional wood-burning hearths and ventless gas fireplaces create (wood-burning fireplaces emit 28 times more fine particulate matter than gas fireplaces, according to a report by the EPA).
Gas fireplaces like the direct-vent models made by Ortal are cost-effective. And, while wood-burning fireplaces can lose as much as 85 percent of their heat through the chimney, Ortal's sealed ventilation system results in less heat loss through the flue.
Heat Barrier Solutions Keep End Users Safer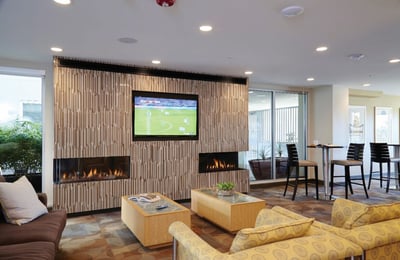 Safety is an integral part of Ortal's design. Our heat barrier solutions offer added protection and include two options: a double glass solution, or a screen heat barrier option.
Double Glass System: Silent fans circulate cool air between two glass panels with our double glass system. This keeps the outer glass panel at or under 172 degrees (F), as required by the U.S. Consumer Product Safety Commission.
Micro-Mesh Screen Barrier: For Ortal's multi-sided fireplaces—like our corner or three-sided models—our engineers developed another ingenious solution: a patented glass bracket system that attaches to the corners of the fireplace; a near-invisible micro-mesh screen stretches around the fireplace, across the glass brackets, and is attached inside the fireplace. This skillfully-designed system maintains Ortal's signature frameless look without obstructing the view of the flames.
Ortal Fireplaces Meet LEED Standards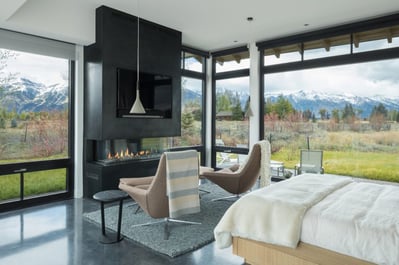 If you're working with a client to meet LEED certification standards, whether on a brand-new building or a renovation, Ortal high-efficiency gas fireplaces make the cut.
Per the U.S. Green Building Council, LEED-certifiable fireplaces must "provide doors that close or a solid glass enclosure" to minimize the escape of combustion gases into the occupied space of the building. Ortal's direct-vent system and sealed glass front make our fireplaces the ideal choice for LEED-certified buildings.
Energy efficiency is just one of many reasons designers, architects, and builders around the world choose Ortal. Learn more about Ortal's innovative design features, cool wall technology, power vent systems, and more on our advantages page. Then browse our catalog to find the right luxury fireplace model for your next project.