It's probably safe to say that most architects and designers look for ways to express themselves in unique ways with products that allow some degree of customization. That's not to say that a well-designed product won't produce an ideal solution within a design, but it's always a bonus when a product can offer extra design flexibility.
Ortal Island and Curved fireplaces do just that. They're most often chosen when the fireplace is intended to be the focal of a room, or when a designer is intending to create a central gathering space where people can connect. Architect favorites, they're already uniquely design-focused pieces, yet they can be easily be customized to express an almost limitless number of possible variations.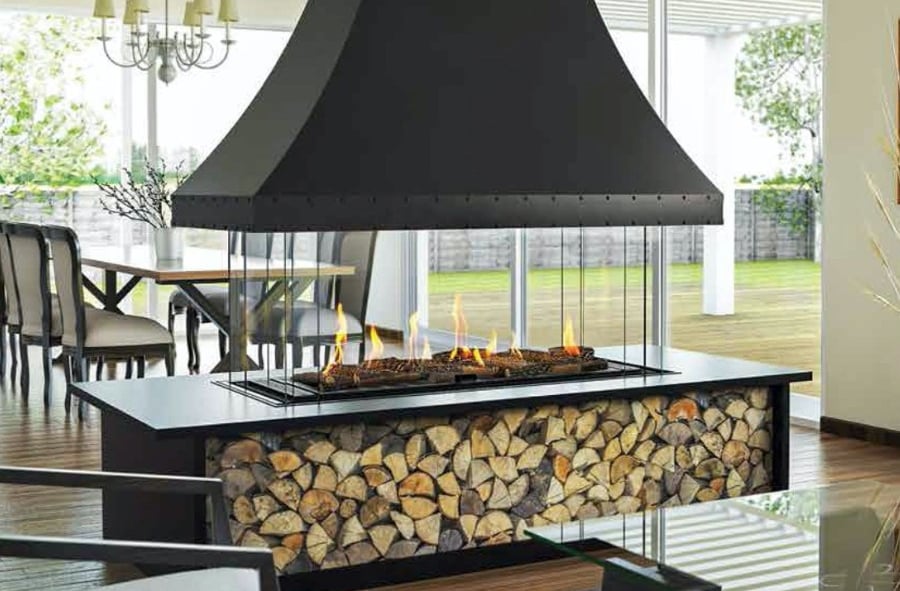 Island 130

These models can be used in a residential application, and they're often used in commercial projects (for instance, centralized in restaurant dining areas) where designers want to add warmth, both literally and figuratively, to a large, open space. An Ortal luxury gas fireplace not only helps complete the design, the flame is enclosed in glass, providing a greater degree of safety than an open wood fire. It also provides
the efficiencies, features, and simple controls that are part of an Ortal modern luxury fireplace.
One of a Kind
Ortal designers have created models with a variety of base and hood options that have broad appeal. By selecting within available styles of bases and hoods, as well as the media within the fireplace (stone, logs, glass), the ideal solution is often just a matter of choice. But occasionally a designer is looking to make a fireplace unique, a one-of-a-kind statement that might be the most compelling visual element within a project's interior. That's where our Island and Curved models can provide the flexibility you need.
For example, our Island 130 can be specified with a base and hood. Or it can be specified with one of them, allowing for a custom solution with the other that can express the designer's vision. Or it can be specified with no hood and no base, allowing the designer to specify nearly any type of surround. The possibilities are endless.

These fireplaces offer a refreshing take on the trend toward linear fireplaces. The Island130 provides the tunnel fireplace look but in a much different way.


Island 130 (no hood, with base) and Island 70 (flat hood with base)
A Space to Greet and Meet
Depending on the space, a 360 fireplace can become a central, free standing location where people can gather all the way around. We also offer standalone 270 models mounted to a wall that provide a gathering space yet allow unbroken open space within the center of a room. No matter what your approach, we offer the models with the options and flexibility to meet your needs.


Stand Alone 360 (Curve Tunnel) and Standalone 270 (Curve)
Other Options
A fireplace can take on an entirely different personality depending on the media chosen within it—logs, glass, stone, or even mix-and match combinations of the choices. Decorative or flat hoods can be chosen and painted to create an entirely different visual appeal (local dealers can assist with painting services and options).
We'll Make It Happen
What are you thinking in terms of design and how do you make it happen? We can help every step of the way. We offer free "white glove" consulting services to architects and designers that can help you with planning, technical services and more.