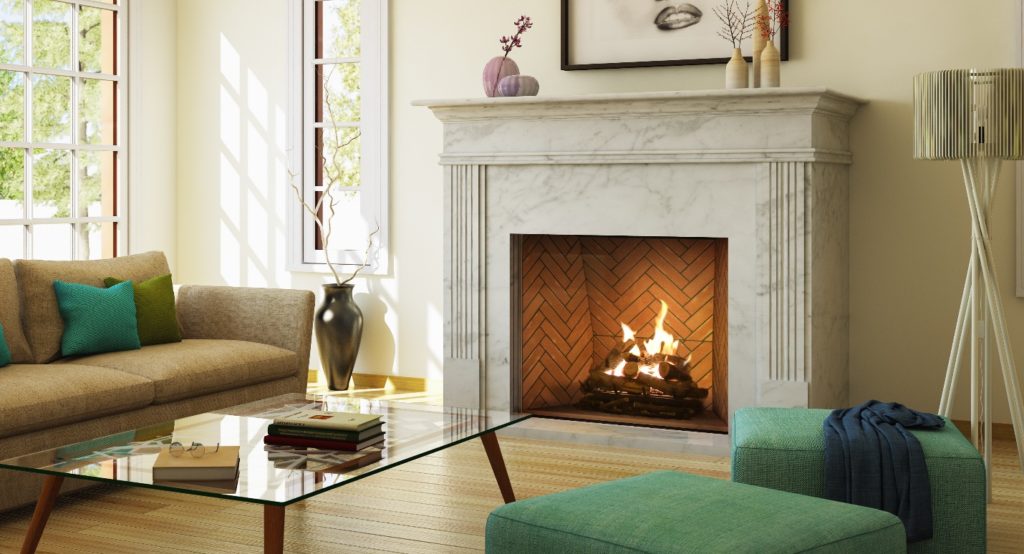 In a typically traditional design, the fireplace style might seem predictable. Of course, due to pollution from wood smoke, burn bans, sustainability issues and simple heating efficiencies, a gas fireplace is likely to take the place of a wood-burning option, complete with a chimney, creosote and regular chimney sweepings.
Aside from the positives and negatives of wood, we're talking about "traditional" from a design point of view. And in that sense, a traditional fireplace would likely include a rectangular firebox with a brick background and a classic mantle as a surround. As you would expect, Ortal offers just that. we have a category of fireplaces labeled Traditional. They're 36" or 42" widths, with the option of backgrounds in red brick or tan, horizontal or herringbone pattern work.
And to enhance that look, we offer our Wilderness Collection burner with an ultra- realistic flame and through-the-log technology. Rather than a log media set on top of a burner, the Wilderness Collection logs are the burner with flames that emanate from them. It's a look that's comfortable and familiar to many clients and might be exactly what they prefer.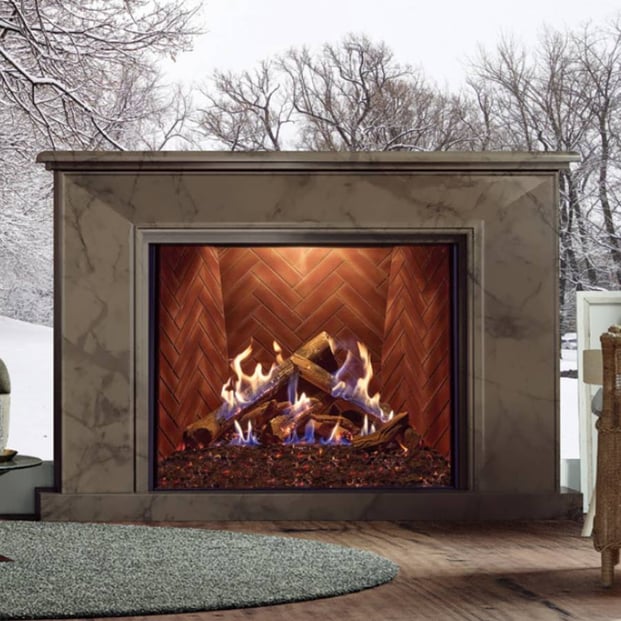 Wilderness Traditional 42"
Traditional With a Twist
Maybe you and they want something a bit different, a bit updated. Traditional with a twist. Because Ortal specializes in design flexibility, we make sure that "twist" you're looking for is possible.
The Surround
You may want a mantle, or not. Our fireplaces offer Cool Wall Technology, so you can choose a smooth, clean drywall surround. The technology makes it possible to choose just about any surround material, including those that might crack or even ignite if used with other fireplace choices. Marble, quartz and even wood can be used. It's even possible to mount a television or art directly above the fireplace without fear of damage.
The Background
We mentioned that brick can provide an entirely traditional look. But to modernize the design, we also offer a reflective black glass background. It adds an amazing depth to the firebox as the flames reflect off the glass. It's traditional but with a clean, contemporary background.
The Media
The Wilderness Collection burner cannot be beat when it comes to providing the look of a wood-burning fire, and it's extremely popular for just that reason. If you and your client want the look of a realistic fire, we'll provide it.
But even in a traditional fireplace design with a mantle, many designers want a more contemporary look, which is possible with different fireplace media and the Ortal burner, a port burner that allows you to create different flame heights and volume (ribbon burners offered by many companies have a uniform flame height, creating less on an aesthetic look).
For example, the flame can rise from glass in four different colors (mix or match), nearly a dozen types and sizes of stone (mix or match), a dozen different log options that can be mixed with stone or glass, and even 4-inch "cannonballs." By working with your client, you can find the option or combinations that satisfy their preferences and allow your design personality to come through.
Location, Location, Location
With Ortal Power Vent options, you can locate a fireplace nearly anywhere within a structure, even in apartments and other multifamily buildings. No chimney necessary. With Power Vent, you can vent the fireplace horizontally, include up to xx bends and use a hidden cap to vent on the side of structure.
The Benefits of an Ortal Gas Fireplace
Even with the most traditional of designs, an Ortal luxury gas fireplace includes all the efficiencies and innovations Ortal is known for. In addition to Cool Wall Technology, Power Venting and our wide range of internal media, our fireplaces provide smart home controls, efficient gas use, internal lighting, and heat barrier solutions.
The result is a traditional fireplace, however you define it, with all the convenience and innovation of any luxury fireplace we offer.