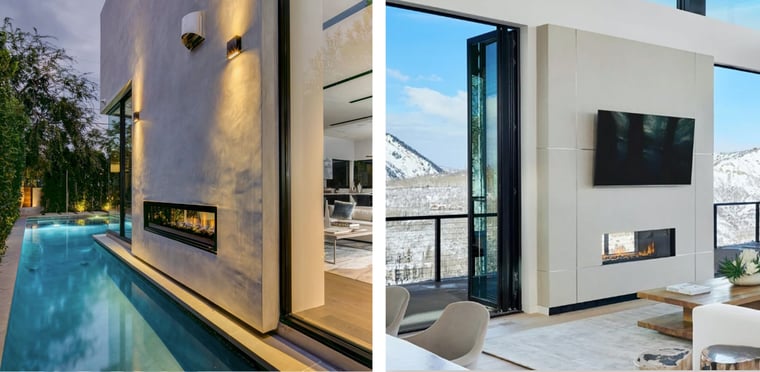 Indoor/Outdoor Tunnel Fireplaces
A well-designed fireplace can create an instant focal point in a room that provides warmth, beauty and the promise of relaxing experiences. There are many ways to enhance the impression, but few greater than with the addition of an Indoor-Outdoor Tunnel fireplace. It's a two-in-one fireplace that not only provides a view from the inside to the outside of a home or commercial space (and vice versa), it also gives both interior and exterior spaces a distinctive contemporary style.
Residential Applications
Many new home designs demonstrate a growing trend toward comfortable, outdoor living spaces. Whether that means a patio space for relaxing and entertaining, or a well-appointed outdoor kitchen with high-end grills, cooktops, bars and dining area, there's little doubt that homeowners want to extend their living space beyond a home's interior. The Indoor-Outdoor Tunnel provides a stunning connection between interior and exterior spaces and provides a comfortable sense of home in both locations.
Commercial Applications
Indoor-Outdoor Tunnel fireplaces are more often applied to commercial projects to make exterior spaces as inviting as indoor spaces.
In hotels and resorts, they offer a modern, upscale look to an outdoor patio area and connect it to the warmth of the interior.
In restaurants the Indoor-Outdoor tunnel provides an equally ideal dining ambiance to both indoor and outdoor spaces.
If you're an architect looking for a way to give the soothing ambiance of a fire simultaneously to interior and exterior spaces, we invite you to look at the full range of Ortal Outdoor-Indoor Tunnel fireplaces. The Indoor-Outdoor Kit is available in all Tunnel sizes from 40 and up to 250 (high and standard).
With all the options provided, you can customize them to complement your overall design in a variety of ways.
Burner
Our tunnel fireplaces can be built with either the Ortal linear burner for a contemporary look or with our Wilderness Collection burner, which delivers an ultra-realistic flame with its through-the-log technology.
Media
Tunnel fireplaces with the Ortal linear burner can be customized with a variety of internal fireplace media, including multiple colors and sizes of glass, stone, cannonballs, twigs and embers. You can also mix and match.
Lighting
Add an even more distinctive with recessed interior lighting.
As always, we're here to help in any way we can. Just connect with our A&D consultants for a wide range of complimentary services.