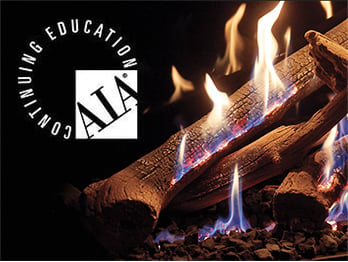 Continuing Education AIA Credits
To maintain their credentials, architects need a certain number of continuing educating credits. That's motivating. So is a free lunch that often comes along with the sessions offered by manufacturers.
That's all nice, but we know that's not why you continue learning. It's because you're a professional. You do it to keep up or get ahead of those in your profession, to showcase your work, and offer your client's the best and latest technologies. When it comes to design and specifying products, architecture is anything but static. It's ever-changing and ever-improving.
And given that, here's something most architects might find surprising. Common knowledge about the current state of fireplace technology, across the board, is years behind what the industry actually offers today. Recent innovations and improvements now give you the flexibility to use fireplaces in new and exciting ways that weren't on the table a short time ago. For example:
Now you can add fireplaces in rooms and buildings where it wasn't possible just years ago.
Fireplaces can be vented in a variety of different ways to heat other rooms or to vent heat outdoors so that the ambiance of a fire can be enjoyed in any climate.
Technologies make it possible to design with surround materials, even combustible ones or ones that might crack, that were previously off limits.
Electronics, art and other design features can be placed right above the firebox without damage.
Smart home options give an unprecedented level of easy control.
New fireplace styles, customization and firebox media allow an incredible range of design possibilities that can dramatically enhance your work.
We Can Help
Like many manufacturers, Ortal offers AIA and IDCEC CES credit courses to architects and designers, and we love doing it. We're very excited about how fireplaces have evolved and how they function, not as an appliance, but as a design element.
Flexibility is a bit of a mantra at Ortal, and that flexibility extends to our continuing education efforts, too. Let us know what you need, and we'll tailor our efforts to you. Our A&D consultants will deliver an hour-long presentation with lunch for your firm, in person or virtual (don't worry; the food isn't virtual). Or if you prefer a hybrid approach, we'll work with you to structure a session that meets your needs. We also offer online courses you can take at your leisure.
We're here to challenge the way you think about fireplaces in your design. With the flexibility and technologies now available, fireplaces can be a fully integrated and essential part of your design. Our hope is that architects don't design around a fireplace but with a fireplace. We're not here to sell; we're here to feed your hunger.
Want To Learn About Ortal?
Continuing education programs focus on promoting industry's changes and advantages. They're not about selling the features, benefits and products of a specific manufacturer.
But if your firm doesn't need the credits and you want to learn more about Ortal specifically, we're happy to schedule a session that focuses on what our company and products can do for you and your clients. Again, we're flexible. We'll meet on your turf, ours, or virtually in whatever way works best for you.
It's an exciting time to learn more!