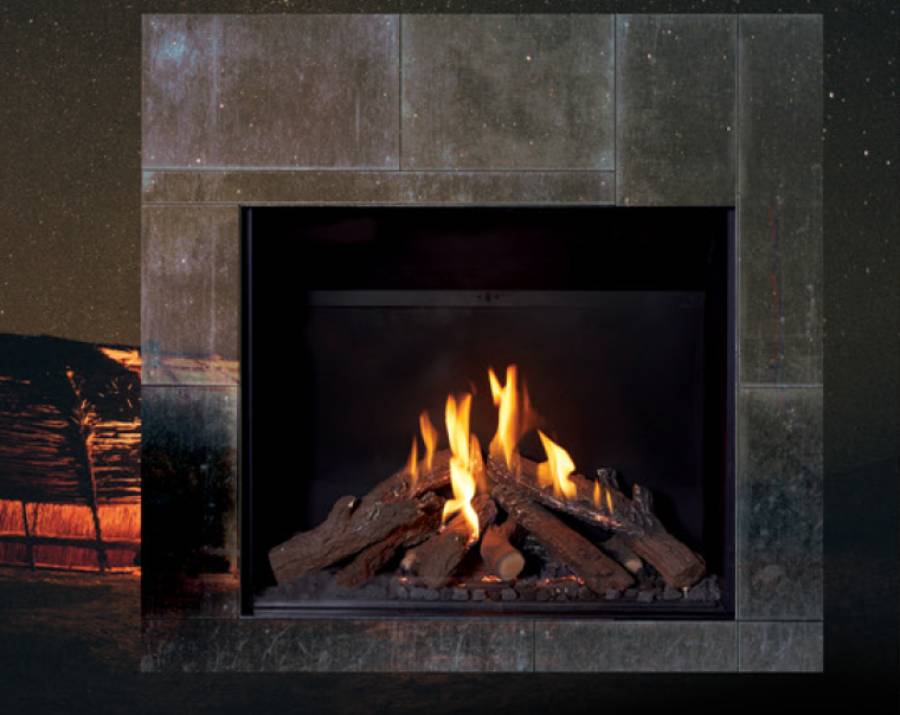 900h-Front 31 with Dark Brown Logs
There's a length list of advantages that gas fireplaces have over a wood-burning fire. The ease, the cleanliness, the maintenance and safety, the dramatically reduced environmental impact, the absence of burn bans – not to mention all the control innovations of the last few decades – overwhelming tip the scales in favor of gas.
Yet a wood-burning fire has always owned ambiance and user experience. We've always heard "there's nothing like a wood fire." Ortal has changed all that.
The Wilderness Burner Innovation
Most companies attempt to mimic a wood fireplace by placing the media — fabricated, artificial logs — over a burner tray. Flames reach up through the media to create an impression, though not a very realistic one, that the wood is burning.
Ortal engineers took a different, innovative approach. Essentially, they created a burner from the logs themselves which is attached to the bottom of the fireplace. This new through-the-log technology with ports in the logs, varies the flow of gas and flame height, creating a taller flame and making logs truly appear as if they are burning. The look is stunningly realistic.
Depending on the look they prefer, designers can also choose Long Driftwood Logs or Chopped Wood Logs with lengths appropriate to the fireplace design.
Other Advantages
Having accomplished an ultra-realistic look, Wilderness Collection fireplaces also offer all the innovative features and benefits of other luxury Ortal fireplaces, including smart home controls, and Ortal Cool Wall Technology, which allows architects and designers to specify materials that were once forbidden when designing a fireplace surround. With Cool Wall, it's now possible to use marble, quartz, tile and even combustible materials such as wood. It also allows homeowners to place artwork or a television directly above
the fireplace.
Architects can especially benefit from other design-related benefits of the Ortal Wilderness Collection. For example:
Any Room, Just About Anywhere
With Ortal Power Venting, you can create the look of a realistic fireplace without venting vertically through a chimney. This feature allows placement of a fireplace in nearly any room in a home, apartment or commercial building, because the fireplace can be vented horizontally.
Easy, Safe Design and Installation
Most fireplaces require a non-combustible framing zone around the fireplace for safety. But Ortal engineers have designed the firebox so that non-combustible clearances are built in. That means wood framing can come right up to the edge of the fireplace.
Unlimited Style Potential
The Wilderness burner can be placed within nearly any fireplace style, including stand-alone or free-standing models that allow a designer to create a natural gathering place within a room. It can also be used in Island and Curved models, as well as Three-Sided and Tunnel fireplaces. That feature provides a high degree of flexibility, allowing architects to create unique designs.
Safer Than Wood
Ortal uses exclusive, advanced safety technology that harnesses the power of a heat-producing flame while staying cool to the touch without sacrificing elegant design. We invite you to learn more about our heat barrier solutions and to see a variety of Wilderness Collection fireplaces in our gallery.