The number of building products that architects and designers specify in a house or building is staggering. By working with professionals for many years, we've found they often need more than the right product. For that reason, Ortal puts a great deal of effort into offering even more than industry-leading innovations, and compelling fireplace designs by supporting architects with a range of services and support. That's why we offer a "white glove" service that extends from your initial planning through installation and beyond. But even more than that, we concentrate our focus on design flexibility so we're ready to work with you and help at every stage of a project.
Our consultants are available when you need assistance need at no charge.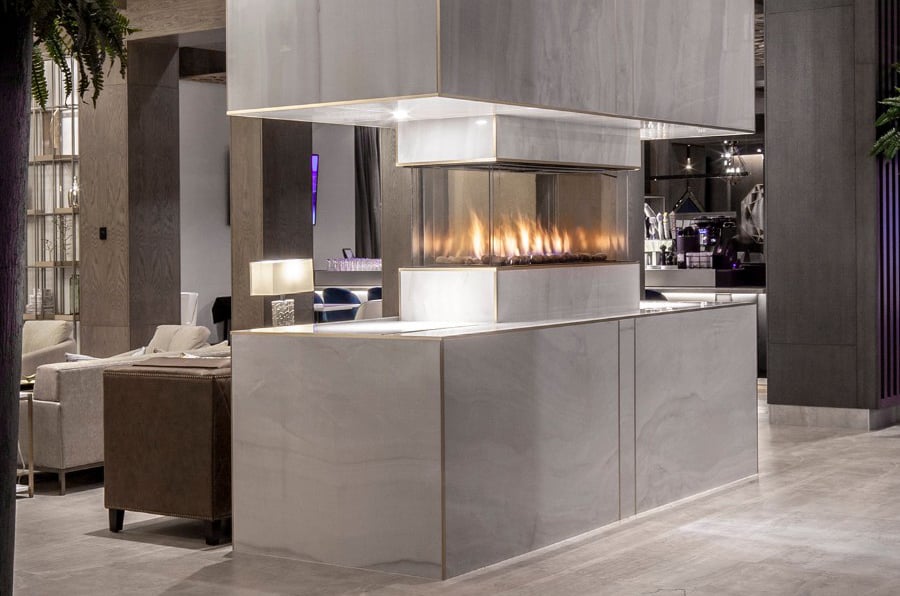 How Can We Help You?
Product Selection
Ortal offers more than 300 styles of luxury fireplaces ranging from the traditional to contemporary, so there's seldom a need to customize. Our consultants can help you narrow your choices based on your design vision to simplify your process. We can also help extend your selection through some our proprietary innovations. For instance, you might be interested in adding fireplaces to a multi-family building, thinking that your options are only ventless models. We can help show you how our power venting system can allow you to specify almost any Ortal fireplace nearly anywhere in a building, including spaces where it simply wasn't possible before. As a result, you're able to consider literally hundreds of additional models. Or if you have a vision for a one-of-a-kind customized design, we'll work with you to make it happen.
Virtual or On-Site Consultation
Our consultants can work with you to answer questions and help with suggestions in whatever way works best for you. If a virtual online consultation will provide what you need, let's jump on a call. If an in-depth, face-to-face, on-site meeting would help get your project moving, we'll work within your schedule to make it happen.
Review and Red-Line Drawings
Send us your drawings and our consultants will review and mark them up.
Online Resources
Often, the information you need is available on our website. We know your time is at a premium, so our resources are organized for quick and easy access. If you need additional assistance, clarification or more information, just get in touch. Our online features include:
Installation Resources
Specifications, CAD, BIM files and more are easy to find and readily accessible for all 300-plus models we offer. Just select any model on our site and you'll find everything you need related to it.
Project Planning Checklist
Our Project Planning Checklist is a free download that will guide you through a detailed planning process from start to finish.
Case Studies
Some issues are unique, but other considerations are universal to those in your industry. Look through our case studies to see how other professionals have worked with Ortal, how their problems resulted in solutions, and how their designs came to life.
Gallery
A gallery is more than just eye candy. It's a great way to get inspiration as you work through a design. Visit our gallery to see images and videos that can lead to fresh new ideas.
Ready to work with us?
Click here and you'll reach a form that will let us know who you are and how we can help. We'll quickly get in touch and help in any way
we can.